With the release of the original N.O.V.A., Gameloft drew a well-defined line in the sand on what a first-person shooter should look (and feel) like on an iOS device. Since then, other games, like id's Rage, and even Chair Entertainment's Infinity Blade, have redefined our expectations in terms of graphical capabilities and gameplay complexity.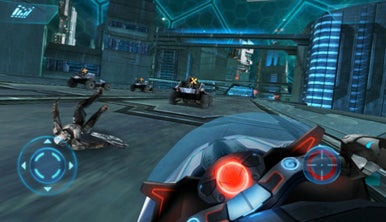 As a result, N.O.V.A. 2 feels more like an evolution of its predecessor than a revolutionary title that advances its genre by leaps and bounds. Nonetheless, the game's new features are well worth the price of admission.
N.O.V.A. 2 picks up six years after the end of its predecessor. Humanity is now entangled in a civil war that pits the central government of the Terran Orbitals against the mysterious Human-Alien Alliance. You play the role of Kal Wardin, who has left the service of the N.O.V.A. organization to retire on the secluded planet Scorpion, where war eventually catches up with him.
And so it begins: N.O.V.A. 2 wastes very little time providing you with a backstory or training, opting instead to drop you straight in the middle of the action. The game's controls are, of course, very intuitive to use and, like most FPS, boil down to moving, selecting a weapon and shooting. As an added twist, if you play on an iPhone 4, N.O.V.A. takes advantage of the latter's gyroscopes, thus allowing you look around by just moving your phone as if it were a window into the game's reality. This both augments the game experience and eliminates the feeling that, in order to play an FPS on a touch device, one should be endowed with three hands.
The game's AI is one of the best I've seen on a mobile device yet; enemies are smart enough to know to actively duck for cover and use basic infantry team techniques to good effect. For example, one of your opponents will try to pin you down or attract your fire while another flanks you and attacks from the side. This makes the game challenging from the very start—something that will please FPS fans, but may turn off the more casual players.
Both the game's graphics and sounds are top-notch; the former take full advantage of the iPhone 4's Retina display, while the latter combines a high-power hard rock soundtrack with excellent sound effects. My only gripe is that the game could do a better job of rendering the environment using a more realistic depth of field; as it stands, the lack of depth causes the screen to look very busy at all times, making telling enemies apart from the scenery difficult.
In addition to the traditional single-player set-up, N.O.V.A. supports up to ten concurrent players duking it out in one of five different game types (Free for All, Team Deathmatch, Capture the Flag, Freeze Tag, and InstaGib) on ten different maps. Players of the first N.O.V.A. installment also get some added bonuses, such as the ability to start the game with additional experience and gain access to advanced weaponry.
If you love the FPS genre, N.O.V.A. 2 is a game that has it all: beautiful graphics, great gameplay, excellent controls and smart opponents. Casual players, on the other hand, are going to find it difficult to master without significant commitment and are, therefore, less likely to enjoy it fully.