Whether you've waited until the last minute or are shopping for someone far away, you don't have to settle for a simple email or printed link when Christmas morning comes. We've already rounded up some our our favorite last minute entertainment gifts and last minute gifts for photographers—once you've picked out something nice, avoid the tell-tale "I completely forgot about you until Christmas Eve" e-mail and spice up your gifting with one of these ideas.
Personalized photo card
When you're bestowing a magazine subscription or some other hard-to-display item ("You're getting a subscription to Cat Fancy magazine!"), a tasteful card can sometimes be the perfect presentation vehicle. Use a program like iPhoto to design a customized card—if you have some photo editing skills, you can even cobble together an image that shows your friend or family member enjoying their new gift.
When your card is designed, print it out yourself at home or at the local print shop, if they're still open. For more on designing cards in iPhoto '11, including how to print your own cards at home, see this how-to article.
Online scrapbooks and e-cards
Even if you're apart from the people you care about on Christmas morning, you still can make them happy by surprising them with a personalized Website or e-card. If you're not proficient in HTML, services like Tumblr can help you build a great digital scrapbook or targeted gift blog. If you're gifting iTunes gift cards, for instance, you could decorate a blog with musicians and sourced audio from their songs, or show off some apps and screenshots.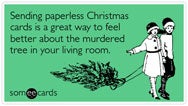 E-cards and flash animations are another way to add some amusing gifting personalization. Xtranormal's Text-to-Movie service gives users the power to create a short film online by choosing characters, setting, and typing dialogue. While it can occasionally produce somewhat frightening computer-spoken animation, it could be just the thing to make your friends smile.
For non-animated—and occasionally R-rated—snark, e-card service Someecards has a wide range of holiday-themed messages, while family-friendly site BlueMountain has an e-card and Amazon Gift Card bundle.
QR code cards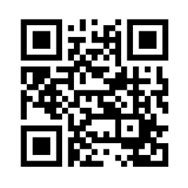 QR codes—also known as 2D barcodes—allow users to embed a link into a layered image that users can scan with a camera phone. They've been having quite a year: advertisers have slapped them on billboards, iPhone apps—like Occipital's RedLaser—have added code scanning features, and now you too can get in on the action.
If your gift involves a download link or Website of some sort, you can generate your own QR code* by inputting the link and printing out the resulting image to put under the tree. For something even more artistic, you could make a QR code ornament, or hide QR code envelopes on your tree.
*As hilarious as it might be, Macworld does not recommend using this service to QRickroll your family on Christmas morning.
Box it up
Have old electronics packaging lying around, or a joke gift box? Wrap it and put it under the tree with a note inside. Your recipient will get the thrill of tearing apart wrapping paper, and you'll only suffer minor guilt when they don't find a tangible object inside. Dressing it up with bows, ribbon, extra tape, and even multiple boxes—nesting doll style—can only add to the fun. Just remember to make the virtual gift cool enough so that they won't feel disappointed.
Scavenger hunts
Spice up the age-old "search around the house" scavenger hunt with photos and internet games. For something simple, you can send your loved one pictorial clues about their present and where it's located, or go all-out and set up a private geocache adventure.
Alternatively, you can skip the real-world running and design an online scavenger puzzle. Write up a list of clues and present the first via e-mail or in person; hand out subsequent clues after being given the correct answer. Sure, it may require a little bit of legwork, but it makes the experience as memorable as the gift itself.
… And more
As you can see, when you're not limited by tangible item sizes, the presentation possibilities are endless. Some honorable mentions from the Macworld staff include: uploading a picture of a gift card to Facebook on Christmas morning and tagging the recipient; baked goods in the shape of the digital item; and Photoshopped celebrities with the present in hand.
Do you have any interesting ways to present someone with an online gift? Let us know in the comments.