Reeder for iPad, a popular RSS reader for the tablet device, debuted a major upgrade this week—even as its creator went public with his feud against a competing application.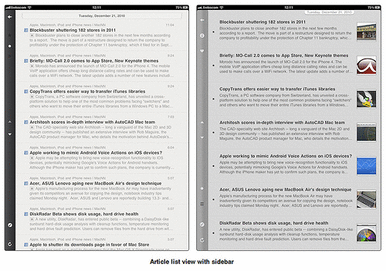 The updated Reeder application adds Readability, a feature that lets subscribers to summary-text RSS feeds grab and read the full-text articles within the app. Reeder says the feature is faster than loading a Web page, and doesn't require users to open the in-app browser.
The update came the same day that Reeder developer Silvio Rizzi launched a broadside against the latest version of MobileRSS HD, noting extensive similarities between the user interface in the latest version of that app—launched Tuesday—and Rizzi's own.
In response, developers of the Instapaper and Read It Later mobile Web page reading offerings announced they were pulling their apps' support for MobileRSS HD.
"For those asking…. yes, I contacted Apple about this," Rizzi announced on Twitter. "I'm hoping this will get resolved soon." MobileRSS HD was still available in the App Store on Thursday morning.
NibiruTech, maker of MobileRSS HD, didn't respond directly to Rizzi's accusations. In a Twitter post, however, the company announced: "We're submitting an update to MobileRSS immediately which includes new features (not seen in Reeder) and modifications to the UI!" In the meantime, NibiruTech dropped the price of its app from the usual $5 down to $1.
Reeder 1.3 is $5, and compatible with iPads running iOS 3.2 or later.