If you're looking for a gift for the person who already has everything, why not try something to control all those things?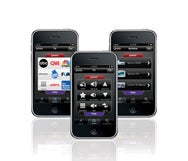 On Wednesday, UK-based Gear4 announced the U.S. availability of its UnityRemote, a device that turns the iPhone or iPod touch into a universal remote for nearly any A/V equipment in your house. And unlike the other IR remotes we've looked at for iOS devices, it doesn't require a special case or dock-based attachments.
The $99 UnityRemote comprises two parts: a small, sleek cylinder and a free iOS app. Place the hardware somewhere in the room, and use the app to send commands to the base via Bluetooth. The hardware then fires off the appropriate infrared (IR) commands to your media components.
To use the remote, you select your devices (TV, DVR, DVD player, and so on) from a long list of product manufacturers. If your particular brand is missing, the app also has a learning function. Once your UnityRemote is set up, you can adjust the layout of the remote so that controls of various devices are on the same screen (DVD player controls and TV volume, for example). On a similar note, you can set up actions so that one touch can accomplish multiple tasks, like turning on the TV and sound system simultaneously.
The UnityRemote is available now from the Gear4 Website and from Amazon.com and is compatible with iPod touch 2G and 3G, and the iPhone 3G, 3GS, and 4. Although it also works with the iPad, the app is not yet universal.