Guitar players who've incorporated the iPad into their music-making experience got a holiday treat from IK Multimedia on Thursday. The music software company released a major update to its AmpliTube for iPad app, highlighted by the addition of 8-track recording as well as the availability of new stompbox models.
AmpliTube for iPad is a guitar and bass amp modeling program. Plug your instrument into Apple's tablet with a cable—IK Multimedia offers a $40 iRig adapter—and you can tap into a range of amplifiers and effects to customize your tone.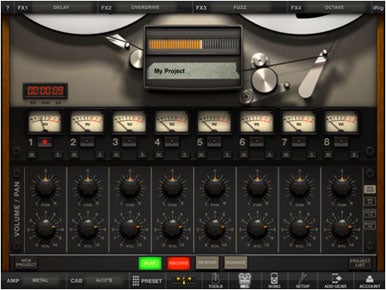 AmpliTube 2 adds a the ability to record yourself playing—a feature that IK Multimedia added to the iPhone version of the app in October. A single track comes with the 2.0 update, with the option to expand the feature to an 8-track recorder with a master effects section via a $15 in-app purchase. IK Multimedia says that each track features a button for enabling recording, an insert effect, controls for volume and pan, solo and mute switches, and two send-effect level controls to add ambience and depth with reverb, chorus, and delay from the master effects section. There's also a global equalizer and compressor in the master effects section to tweak your final sound.
In addition to the recording capabilities, AmpliTube 2 offers five new stompbox models—Compressor, Reverb, Graphic EQ, Parametric EQ, and Limiter. The models are available as $3 in-app purchases.
Other additions to AmpliTube include the ability to import songs as backing tracks directly from the iPod library on your iPad or from a computer using file-sharing or Wi-Fi. AmpliTube 2 can import up to 50 songs. A SpeedTrainer feature lets you slow down or speed up imported songs without affecting the music's pitch—ideal for learning how to play particular passages of songs. The app offers a new preset naming feature as well as a new set up panel that includes input and output control levels.
The iPad app, which costs $20, runs on iOS 3.2 and later. IK Multimedia also offers a free version of AmpliTube that ships with fewer effects. The 2.0 version of AmpliTube for iPad Free adds the single-track recording feature, present naming ability, new setup panel, and other capabilities of the paid version.