The past few weeks have seen an outpouring of colorful, themed, and novelty cases, so this week we get back to the basics. No SpongeBob or Angry Birds themes, no Etch-a-Sketch or chalkboard designs…just good, old fashioned, rubber-and-polycarbonate protection for your iPhone.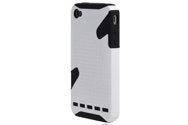 Aplinestars
Protective apparel and equipment designer Alpinestars has teamed up with Incipio to release two new, rugged iPhone 4 cases. The Tech 10 DermaShot Silicone case ($25) takes its inspiration and design cues from the rough and tumble Tech 10 motocross boot. The case is made from high density, shock-absorbing silicone and boasts an anti-static coating that keeps the silicone soft, sleek, and free of lint and dust particles.
The Bionic Silicrylic ($35) is a hardshell case with a silicone core that boasts a rugged yet stylish design. Textured bumps provide extra grip, while strategic cutouts allow full access to all your device's ports.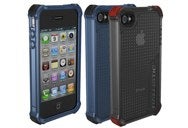 Ballistic
Some activities are more punishing for your iPhone than others. For instance, it would be unwise to go mountain biking with the same kind of case you'd use at a dinner party. Ballistic's Ballistic LS case ($30), which will be available come January 2011, lets you adjust its level of impact protection to meet your specific needs. The slim TPU-and-silicone case features ballistic corners of varying levels of thickness—you can swap the corners as desired. Though this approach won't appeal to everybody, for active iPhone users, it could prove a convenient way to crank up your device's protection when needed.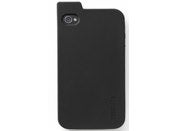 Essential TPE
For some old-school panache, check out Essential TPE's Icon Case, whose design imitates the old, antenna-sporting mobile phones of yesteryear. Though it won't actually improve your iPhone's wireless performance, this silicone case will provide plenty of protection from impact and scratches, while endowing you with a hip, ironic flair your bearded, plaid-wearing friends will surely appreciate. Price and availability information are not yet available.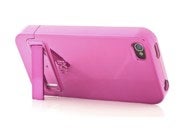 iKit
It wouldn't be a proper iPhone-case roundup without at least one kickstand case, so here it is: iKit's iPhone 4 Chrome Flip case ($35) protects your phone with a hard polycarbonate shell and a soft rubber interior. A shiny chrome finish gives the Chrome Flip a glossy sheen, while a built-in, flip-out stand allows for hands-free landscape-mode video viewing. The bottom of the case can be removed for easy docking—a welcome feature we've been seeing more and more of lately.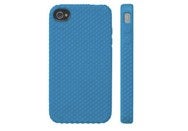 Incase
If there's any device that knows a thing or two about impact, it's the ping-pong paddle. Incase's first rubber case for iPhone 4, the Ping Pong Cover ($30), is inspired by a paddle's textured-rubber surface. The injection-molded case securely fits over your phone, while its surface nubs provide extra grip and lend the case a unique, table-tennis aesthetic. Though you may feel the urge to do so, we advise that you abstain from using your Ping Pong Cover-adorned iPhone for actual ping pong games.
Incipio
The Incipio Destroyer Ultra ($28) lives up to its fearsome name by providing multiple layers of protection for your iPhone. A shock-absorbing silicone core provides the initial protective layer, while a rigid polycarbonate frame adds an extra level of sturdiness. Raised ridges allow for increased grip and durability, and a built-in belt-clip holster lets you keep your iPhone within easy reach at all times.
Kioky
Kioky's iPhone 4 Screen Protector ($25), available soon, is a thin, transparent film that protects the front and back of your iPhone 4 from scratches and smudges, while adding virtually no extra bulk. Accurately applying a protective film over your iPhone can be difficult, but Kioky's iPhone 4 Screen Protector comes with an applicator device that the company claims makes it easy to center the film for a precise fit.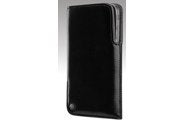 SwitchEasy
SwitchEasy's Duo ($30) is a leather sleeve case that features a gap in the upper and lower edges, letting you easily insert and remove your phone from the top or base of the case. High-quality leather keeps your phone protected in style, while a soft, microfiber lining protects and cleans it with every use.