At a Glance
Expert's Rating
Pros
Great video and solid audio in a thin package
Top-notch Internet apps, including Skype
Cons
Pricey for its class
Remote could be easier to use
Our Verdict
Editor's note: This review of the Samsung C8000 series is based on our hands-on testing and evaluation of the 55-inch UN55C8000. According to the manufacturer, the image quality and features should be equivalent for each TV in this model line.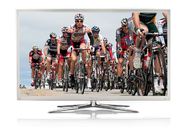 Samsung again advances to the head of the class with theSeries 8 line of LED-backlit 1080p LCD TVs. The ultrathin, sleek-looking Samsung C8000 series delivers terrific images, solid audio, great support for multimedia playback, and superb connected-TV features. It also supports 3D content, a feature that is likely to become increasingly important in the next few years.
All this goodness doesn't come cheap, however, since it's suggested retail price makes the C8000 one of the more expensive HDTVs lines. You can certainly findgood sets for a lot less these days. But if your wallet can take the hit, the C8000 series will repay you by delivering pretty much the best of everything you can get in a current high-end HDTV.
In our juried image-quality tests, the C8000 series achieved some of the highest scores we've ever seen, across the board and for all content types. Judges were especially blown away by the set's contrast, brightness, and color: Written comments included praise such as "great color," "beautiful detail," and "awesome." We did observe some small motion artifacts in the Blu-ray Disc clips for The Dark Knight, and some slight shadows in a panning test betrayed the set's use of edge-lit LED technology; but whatever secret sauce Samsung used to deal with the common problem of uneven lighting that afflicts edge-lit panels worked so well that the C8000 series outperformed sets using pricier full-array LEDs (which also tend to make sets thicker).
Overall, the C8000 handled motion exceptionally smoothly, as we'd expect from an LCD TV with a 240Hz refresh rate. It also aced our tests for jaggies and video resolution, underscoring how brilliantly the C8000 series handles image quality. It does this without gobbling up very much energy, too. In our tests, the 55-inch model averaged one of the lowest energy consumption rates we've recorded for a set of comparable size.
But there's plenty more to like, starting with the C8000's super-skinny profile. To keep the set so slim, Samsung introduced some unusual design elements, including adapter cables for connecting a coaxial cable (for an antenna or cable TV) and an ethernet cable (to connect the set to your home network). The coaxial adapter cable was especially helpful, eliminating the contortions required to reach the conventional coaxial port in some sets, let alone those required to hold the cable steady while screwing it in. The end of the adapter cable slid onto its input on the set in a matter of seconds.
Aside from the aforementioned ethernet and coax inputs, the C8000 series has a fairly standard set of inputs and outputs: four HDMI (all in the back of the unit); one component; one composite; one PC input (D-Sub); PC and DVi audio inputs; and optical digital and headphone outputs. The set also has two USB ports, so you can use one to add a Wi-Fi adapter (an extra-cost networking option) and the other ro accommodate a flash drive containing media you wish to play back.
The Series 8 remote looks as cool as the set, with an unusual touch-sensitive, brushed-metal surface, but it's not very user-friendly. For example, there's a button to turn on lighting for the remote, but the lighting was difficult to see—and the touch-sensitive surface doesn't provide the tactile cues you get from more-traditional buttons. Still, in a well-lit room you should have no difficulty finding the keys you need: The remote makes switching inputs, accessing content, and running Internet apps a breeze, with dedicated buttons for these functions. Meanwhile, a Tools button affords easy access to frequently used settings.
Samsung's on-screen menus haven't changed much in the Series 8: They're still among the best looking and most intuitive we've seen. A standard first-time use wizard gets you up and running fairly quickly, and initiates the usual channel scan if needed.
Samsung packages a wide array of Internet content for its customers, including most major commercial streaming-media services and numerous social media sites, plus assorted news, sports, and games—and even Skype (you'll need a Webcam with a mic to handle video calls, though). You must download some of these items (the games, for example) as Samsung Apps, and you must pay for some of them (in addition to maintaining whatever accounts the media services require). Be prepared to invest a fair amount of time into setting things up, especially in the case of services such as Netflix and YouTube, which have log-in and activation requirements that are somewhat cumbersome to complete when you use the remote's numeric keypad for data entry.
One nice feature of the set is its ability to store log-in credentials for multiple services in profiles for different users in a single household. To get to your Facebook, YouTube, or other account, simply log in to your profile on the set.
Samsung also offers a very polished media player, with support for streaming media from DLNA-compliant media servers on your home network as well as for content from a USB flash drive. The player can handle numerous media formats, and it offers advanced features for sorting content and displaying slideshows. The set also supports picture-in-picture for different inputs, so you can keep an eye on a sportscast while watching a Blu-ray movie, for example.
The simulated surround-sound audio from the set's two 15-watt speakers was surprisingly robust for such a thin device, though the absence of a subwoofer made for somewhat anemic bass tones. Still, the set produced a pleasing audio soundtrack for Phantom of the Opera on Blu-ray Disc.
Samsung provides a serviceable setup sheet and a 67-page printed manual (bound together with French and Spanish versions), both of which are available for download online. The Website also has an downloadable setup guide for Skype. The manual explores the set's many functions in depth, but would have benefited from more illustrations.
Despite minor flaws, the C8000 series bundles superb image quality with great Internet and media-player features. If you're willing to pay top dollar, Samsung delivers the goods.