At a Glance
Expert's Rating
Pros
Very inexpensive
Attractive menu and first-time wizard
Cons
Disappointing image quality
Our Verdict
Editor's note: This review of the Panasonic G25 series is based on our hands-on testing and evaluation of the 42-inch TC-P42G25. According to the manufacturer, the image quality and features should be equivalent for each TV in this model line.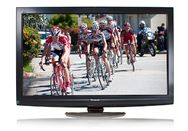 Panasonic's Viera G25 plasma HDTVs are big, clunky, and thick, with elementary on-screen menus and a forgettable remote. Still, it does have some nice features, such as a cinema mode with THX certifications for picture calibration, and a fantastic range of good viewing angles
The G25 series has a pretty basic design. Its bezel is shiny, black, squared-off, and somewhat thick; and the television sits on an oval swivel stand. Physical buttons (Power, Menu, Input/Ok, Volume, and Channels) are hidden on the back left side of the television, behind the screen.
Most of the ports are positioned on the back of the TV, and as a result, most of your wires, when plugged in, will be perpendicular to the screen. To facilitate wall mounting, Panasonic provides a few ports on the side: two USB ports, an HDMI port, an SD Card slot, and a video-in port. The ports on the back (nine in all) include two HDMI ports, a LAN/ethernet port, an antenna/cable port, two component ports, another video-in port, a digital audio output port, and a PC port.
The G25's remote is undistinguished. Its top hosts a number of dedicated buttons, including ones for input, remote backlight, SD Card, and Panasonic's Web apps (Viera Cast) and tools (Viera Tools), as well as the usual standbys. The number keys are near the bottom and are labeled with extra-large numerals.
The initial setup wizard invites you to choose the language, mode (home or store demo), cable/antenna, label inputs, and setup for your Internet connection (ethernet or via a wireless USB dongle).
The on-screen menus are basic, but they do the job. Pressing the Menu button on the remote pops up a side menu in blue and yellow containing basic icons and lots of straight lines. The Viera Tools button pops up a bottom menu with slidelike options for THX, Viera Cast, Viera Link, Viera Image Viewer, Media Player, and Eco Mode.
The G25 series has only four preset picture modes (Vivid, Standard, THX (cinema), and Game) along with a custom mode for tweaking your picture options. In the preset modes, you can adjust the basics: contrast, brightness, color, tint, sharpness, color temperature, and other parameters. The custom mode offers access to additional settings, such as detailed white balance, black extension, panel brightness, and gamma adjustment.
Viera Cast, Panasonic's version of Web apps, includes a number of preloaded applications—among them, Amazon video, Bloomberg Television, Netflix, Pandora, Picasa, Skype, Twitter, and YouTube. Pressing the Viera Cast button gives you access to an interesting menu: Your video continues to play in a little box in the center, and the apps surround the box. I couldn't find any option to add applications, and some of the apps (such as the one for Fox Sports) are marked as "coming soon."
The YouTube app provides a number of options for each video, including More Info, More from User, and Related Videos. You can play the video at full screen, but there's no HD option to support the larger size at reasonable image quality.
The G25's biggest problem in our image quality tests was the shaking and juddering we saw in a scene in which a still image of a seaside town pans diagonally across the screen. An engineer affiliated with Panasonic said the problems likely resulted from the TV having a hard time with the frame rate of our test footage.
The Panasonic produces deep blacks and highly saturated colors. Viewing images from different angles didn't negatively affect the picture quality. However, the colors were often too saturated (enough to make grass look a bit too green, or make people's skin tones look somewhat sunburnt) and the shades of dark grey seemed to be "rounded down" to black, meaning that while you'd get plenty deep blacks, darker scenes will look too black, making it hard to pick out certain details.
This HDTV doesn't offer preset audio modes, but you can adjust your bass, treble, and balance in the main menu. An advanced audio option lets you toggle the surround sound (which has a nice amount of depth), boost the bass, adjust the TV speakers, and change the volume leveler.
The best I can say for this HDTV is that its angle of viewing is excellent and its Web apps are fairly good. The YouTube application has a large number of built-in extra features . Unfortunately, the oversaturated colors are hard to overlook.