At a Glance
Expert's Rating
Pros
Built-in Wi-Fi, Bluetooth
Incredible sound
Large selection of Internet entertainment
Back inputs difficult to reach
Cons
Expensive
Doesn't swivel
No Netflix or YouTube
Our Verdict
Editor's note: This review of the Mitsubishi 265 series is based on our hands-on testing and evaluation of the 46-inch Mitsubishi LT46265. According to the manufacturer, the image quality and features should be equivalent for each TV in this model line.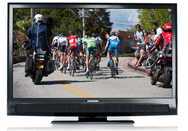 If you're a fan of sports or action flicks, you'll want a midsize HDTV that can re-create motion without adding halos of pixels around a fast-moving quarterback or causing buildings to vibrate as the camera swoops past them. The Mitsubishi 265 Series might be what you're looking for. In our image quality tests, it earned excellent marks for its handling of motion.
The Mitsubishi 265 Series did extremely well in our horizontal and diagonal panning tests, which stress a television's resolving capabilities. In an action-packed Blu-ray Disc scene from Mission: Impossible III, however, I noted a slight vibration in a brick wall when the camera moved across it.
In our color assessments, the Mitsubishi 265 Series performed more than acceptably. Several scenes looked reddish to me, and another judge complained of muted colors. But overall we gave it good color scores.
Listening to the Mitsubishi 265 Series TVs is even better than looking at it. Mitsubishi puts 18 tiny speakers along the bottom of the set to simulate a 5.1 surround-sound system; and though the simulation isn't perfect, it's surprisingly good. The front sound stage sounded as good as a respectable home theater audio—clear, strong, and correctly sourced. LG also lets you plug your own surround speakers and subwoofer into the TV, for true 5.1 audio without a separate amplifier.
Aside from its picture and sound, the Mitsubishi 265 Series sets aren't particularly well designed. The stand doesn't swivel, and the inputs on the back of the set face down in a recessed area, making them difficult to reach. Luckily, they're near the side, which improves access to them, and several inputs (including three of the four HDMI connectors) are on the side for quick access.
As with most other current HDTVs, a setup wizard comes up the first time you turn the set on. The on-screen menu is fairly easy to read and use, but it has some quirks. For instance, pressing the remote's Enter key when you're done with an adjustment doesn't return you to the menu; for that, you have to press the Menu key. The remote's Tools button brings up a convenient, smaller menu with options such as video modes and closed captioning.
The remote's volume and channel controls and arrow buttons are well placed, but the six menu buttons are smallish, identically shaped, and clumped together in two rows, making them hard to find by touch. The remote isn't backlit and doesn't glow in the dark. On the upside, the six menu buttons include dedicated controls for Video and Audio that get you to those adjustments quickly. And the remote is programmable.
You can access the Internet through ethernet or via the TV's own built-in Wi-Fi. The latter takes a little work, since you have to enter your wireless password through a clumsy, phone pad-type interface. The on-screen messages don't always tell you what's going on.
Once connected, you get a multitude of programming options, courtesy of Vudu Apps: Vudu Movies (of course), but also Facebook, Flickr, Fox News Flash, Picasa, Rachel Maddow, Sesame Street, Wikipedia, and YouTube .
Vudu Apps lacks one very popular Internet video option, however: Netflix. You'll have to use some other Internet-capable device to watch this service through your HDTV.
Plug a flash drive into a Mitsubishi 265 Series TV, and your options will again be limited. You can view JPEGs and listen to MP3s, but these HDTVs support no other no other image or audio formats and no other kind of video. You can combine JPEGs and MP3s into a slideshow with music.
Mitsubishi added another home-entertainment feature new to HDTVs: Bluetooth. It's strictly for playing music, but it works. I had no trouble getting the set to play the audio from my Droid X phone.
This Energy Star television uses an rather high 125 watts on average when in use. When off (or in standby mode), it continues to suck about 1 watt. Of course, you can always simply unplug it or turn off the surge protector.
If you want to watch your own videos or Netflix's on-demand service, Mitsubishi's 265 series is a worse match for you than some competing HDTVs of the same screen size. But if you're a sports nut or an action movie fan, and you can afford to drop $2500 on a 46-inch set, consider this one seriously.