At a Glance
Expert's Rating
Pros
Supports DLNA
Attractive, easy-to-use menu
Well designed
Very good motion handling
Cons
Very expensive
Using Netflix requires Sony account
Our Verdict
Editor's note: This review of the Sony HX909 series is based on our hands-on testing and evaluation of the 46-inch XBR-46HX909. According to the manufacturer, the image quality and features should be equivalent for each TV in this model line.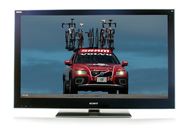 The Sony HX909 series gives you a lot of features for the painfully high price, including a very good picture and a fine selection of Internet services. It has a few quirks and problems, of course, but the real issue is the high price: The picture quality isn't that good.
A panel of five judges convened in our lab and gave the HX909 series a slightly higher average score than they awarded the other three similar HDTVs we tested with it. Among the faults detected were too much contrast in a couple of scenes, and yellowish skin tones in our football clip. When the set was called upon to upconvert a DVD to 1080p, faces had a slightly artificial, oil-painting look to them.
However, the HX909 series did handle motion well. I noted a slight vibration in a brick wall that the camera panned across in Mission: Impossible III, but I thought its handling of our diagonal panning test was almost perfect.
Sound quality was on a par with the image quality—good but not outstanding. I heard very slight distortion on loud, high notes with the volume turned all the way up, but none at a reasonable volume level. The front sound stage was wide but not too wide, and every sound seemed well-placed. On the other hand, there was no sense of surround at all, even when I turned Sony's imitation surround feature on.
The set is physically well designed. It swivels on its stand, and the inputs are easy to reach. As with most other current HDTVs, when you turn it on for the first time, a wizard walks you through initial setup. If you have used any Sony HDTV, Blu-ray player, or Playstation in recent years, you'll be familiar with the HX909 series' full-screen "crossbar" menu. The menus can be slightly intimidating the first time you confront one, but after a few minutes they make perfect sense. This one has a transparent background, so you can see the programming behind it.
I found the HX909 series' onscreen explanations quite useful: I never had to check the manual to see what the Adv. Contrast Enhancer did (for example). And that's a good thing, because the HX909 series' thin 21-page manual is little more than a glorified quick setup guide. An electronic, hypertext "i-Manual" is available on the TV's screen and also on the Internet, but it too leaves a lot to be desired. For instance, unlike a real electronic manual in PDF format, it isn't searchable.
The well-designed remote control has a strange, concave curve that helps you identify it by touch when you reach into your pile of remotes in the dark. It has large, well-placed number, menu, and arrow buttons; and it's programmable. But it doesn't glow, and it's not backlit.
If you plug an ethernet cable into the HX909 series (Wi-Fi requires a separately sold adapter), you gain access to a wide range of Internet entertainment, including Sony's own pay-per-view service, Qriocity. That service charges $6 for a 24-hour HD rental, but it doesn't charge you until it has tested your connection to make sure it can handle the stream. The library is geared toward recent films; when I examined it, the Classics category consisted of three movies.
Alternatively you can obtain content from Amazon, Blop.TV, Hulu Plus, Netflix, Pandora, Picasa, YouTube, and many other sources. Annoyingly, though, in order to use Netflix, you must sign up for a Sony Style account as well as a Netflix one.
The HX909 series supports DLNA, so you can use the same ethernet connection to enjoy photos, music, and videos off of any computer on your home network that has DLNA server software installed and enabled. Windows Media Player can serve DLNA, so you probably have one or more such computers already. With DLNA, you can search for media files by folder, genre, keyword, playlist, or other criterion, and you can play any file that your server can handle. You can display photos in a slideshow with effect transitions and your choice of musical accompaniment.
If you don't network your television, you can still enjoy photos, music, and home videos by plugging in a flash drive. Without a server, however, your choices are limited. There's no search, for example, and you can play only files that the HDTV supports. For instance, via DLNA, I could listen to MP3 and WMA music files; but via USB, to MP3s only.
The Energy Star-certified HX909 series power-saving features include an ambient light sensor that lowers the television's brightness when the room darkens, and a setting that turns the set off after a predetermined period of inactivity.
Overall the HX909 series televisions are good, and in many ways they are excellent. But for many consumers, its strong points won't justify its high price when they examine other offerings at a similar price.