No matter how you spend your off hours—watching movies, savoring a good book, or blasting video game baddies from here to kingdom come—Apple's iOS devices have quickly become essential leisure time companions. Our editors have searched the App Store's virtual aisles for mobile software that lets you do more with your down time. From streaming media to serving up a great meal, the following App Collections offer plenty of choices for filling up your iPad, iPhone, and iPod touch with entertaining options. And of course, games are well-represented with a trio of collections that test your skill at sports, strategy, and shooting things up.
Gently down the stream
Storing music and movies on your iOS device is so old fashioned. With a hearty Wi-Fi connection and the right apps, you can stream media to your iPhone, iPod touch, or iPad.—Christopher Breen
Hulu Plus: For years, people talked about video-on-demand as the future's Great Digital Hope. It's now here, but sometimes in subscription form and, often, laden with commercials. That describes the free Hulu Plus. For $8 a month, you can stream Hulu to your iPhone, iPod touch, and iPad. Although you get just as many commercials as the free version of Hulu, you have access to complete seasons of popular shows as well as higher-resolution video.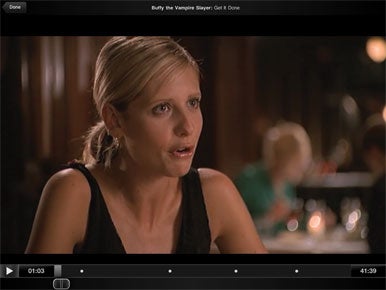 Rhapsody: For just $10 a month, the Rhapsody music subscription service gives you browser- and iDevice-based access to more than 10 million tracks. Like the Rdio service and its companion app for the iPhone, the Rhapsody app not only lets you listen to streaming music over a Wi-Fi and 3G network, but also download tracks to your iOS device so that you can listen when a wireless network isn't available. That $10 a month lets you connect a single iPhone, iPod touch, or iPad to the service. For $15 a month, you can provide access to up to three such devices.
Netflix: At the risk of insulting a small portion of our readers, if you have an iPad and a Netflix subscription and don't have the Netflix app, you're doing something wrong. Together, the three are a natural. Netflix has significantly beefed up its streaming catalog so you can now find movies and TV shows you'll actually want to watch and, over a reasonably fast Wi-Fi network, the content looks good.
Airfoil Speakers Touch: Generally when we think of streaming music, we think of pulling it from the Web. But you can also stream tunes from your Mac to your iOS device. One way is with Rogue Amoeba's $25 Airfoil in league with the free Airfoil Speakers Touch app. The Mac-based Airfoil takes care of broadcasting any sound your Mac can make. Launch it, launch Airfoil Speakers Touch, and tell Airfoil to broadcast to your iOS device to tune into the Mac's broadcast. It's like having your own private radio station.
Eat, drink, and be merry
When it's time to prepare a meal, mix a cocktail, or figure out where to dine out, make sure these apps are close at hand.—Philip Michaels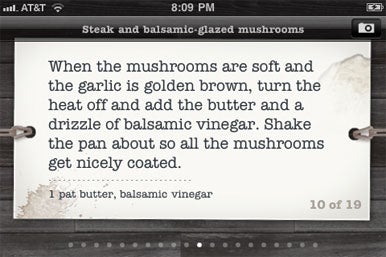 20 Minute Meals: If only every dinner I prepared could be as orderly and well assembled as 20 Minute Meals, the Jamie Oliver-backed recipe app from Zolmo. The $8 app offers dozens of recipes—from pastas to salads to stir frys—but it's the organizational details that prove to be the true delight here. Tabs allow you to toggle between the ingredients you'll need, the equipment you'll use and the steps you'll take to prepare a dish. You can scroll easily from step-to-step in portrait mode, or flip your iPhone sideways to also view pictures of each step and get the occasional audio tip from Jamie Oliver himself. Helpful how-to videos and advice on keeping your pantry stock round out this aspiring chef's delight.
Cocktails HD: It may be an e-book dedicated to the libationary arts, but that description hardly does justice to the amount of info packed into Cocktails HD. And the $5 iPad app comes up with clever ways to present that info, too—scrollable drop-down menus allow you to jump straight from the app's home page to chapters on tropical, classic, and other assorted types of cocktails. Once on an ingredient page, a slider helps you easily jump to other sections where you can learn the finer points of making garnishes, coating the rim of a glass, or muddling mint leaves. Cocktail HD features vibrant pictures, clearly organized recipes, and a design worth raising your glass to toast.
Drync Wine Pro: I'll be honest—after a couple of glasses of a good red, I have a hard time remembering my name, rank, and serial number, let alone the exact information on what I happen to be drinking. Fortunately, Drync Wine Pro does an excellent job of logging the wines you've drunk, what you've enjoyed, and what varietals you'd like to add on your next trip to the wine shop. A search function takes a lot of the guesswork out of remembering things past, while a Quick Notes feature lets you jot down notes for tracking down that exquisite merlot the next time a network connection is available. Whether it's reading through other people's reviews or saving your own observations for posterity, the $3 Drync Wine Pro is an oenophile's delight.
LocalEats: When I'm in a strange city far away from home, the last thing I want to do is have a bland meal in a soulless chain restaurant. That's why LocalEats has been a fixture on my iPhone since Apple gave the go-ahead to third-party apps. LocalEats lists the top restaurants in more than 50 cities as determined by local gastronomes. And WhereTheLocalsEat.com hasn't rested on its laurels, updating the $1 app to improve its interface and adding new features like filtering search results and providing coupons for restaurants in some markets.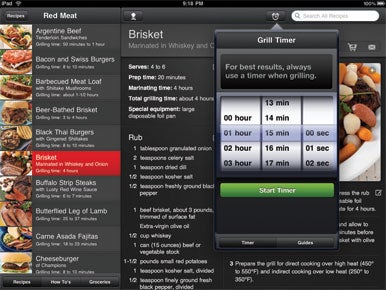 Weber's On the Grill: Scores of backyard cooks claim to have perfected the art of grilling. Load up Weber's On the Grill on your iPad, and you'll be secure in the knowledge that you've mastered fire. The $5 iPad app—and its similarly named and priced iPhone version—offers tips and tricks for both charcoal and gas grills as well as a list of essential tools every good griller needs. And that's before you even dive into the array of recipes the app offers for beef, pork, poultry, and fish—not to mention vegetables, marinades, and even desserts.
The bibliophile's iPad
While the iPad doesn't yet sport the iPhone 4's Retina display, and lacks the eye-friendly e-Ink screen made popular by Amazon's Kindle, it turns out that the screen still offers a fairly crisp reading experience. Whether you want to curl up with a book or digest the latest blog posts and articles from around the Web, a host of apps can help you turn the virtual page.—Lex Friedman
Kindle: Apple's free iBooks app is great, but Amazon's free Kindle e-reading app is even better. The app connects with Amazon's Kindle bookstore and its tremendously broad selection of e-books. It also handles both daytime and night reading with aplomb, thanks to its ability to adjust the color scheme and brightness as needed. And in a marked improvement over real books, Kindle lets you tap on any word to see its definition, and search the book for any word or phase in seconds. If you use the app on both your iPhone and your iPad (and perhaps a hardware Kindle device, too), your current page is always wireless synced, so you'll never lose your place.
Reeder: Silvio Rizzi's Reeder isn't just the best RSS newsreader on the iPad—it's the best newsreader on any platform that I've ever used. The app elegantly organizes all of the feeds you subscribe to, letting you delicately swipe through articles. The $5 iPad app—and its brilliant $3 iPhone counterpart—syncs your subscriptions via Google Reader, and integrates with a slew of other services: Tap and hold on any link within the app to send the story to Twitter, Instapaper, ReadItLater, Google Mobilizer, and the like. It's speedy, it's intuitive, and it's a true pleasure to use.
Instapaper: It's easy to dismiss Instapaper, a Web service with a corresponding $5 universal app. Why, you may wonder, do you need a third-party service to organize what you come across on the Web, instead of simply reading them right on their Websites? The answer is convenience—in more than one way. First off, Instapaper (like Safari 5's Reader feature) grabs only the important stuff: the article's text and inline images, and not the flashing ads competing for your attention. Even better, it's a great way to file away lengthier articles that you don't have time for right away, without needing to leave more and more tabs open in your browser. And best of all, reading articles on your iPad's glorious screen quickly feels a lot more natural than scrolling through them on your Mac.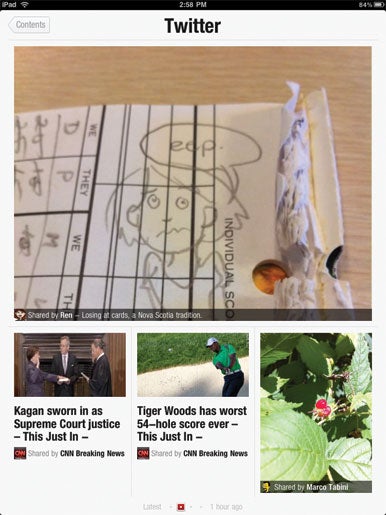 FlipBoard: Though its initial launch was marred by now-fixed server issues, FlipBoard really shines. The app scans through your Twitter timeline and your Facebook newsfeed finding links, and assembles those links into a deliciously touchable interface. Beyond browsing links shared by your friends and peers, you can also use FlipBoard to subscribe to other feeds, covering all the major news topics—headlines, sports, pop culture, politics, tech, and more. Flipping through stories is fun, and the whole experience is very visual, making it easy to guide your eyes upon a story that interests you.
The sporting life
Have your dreams of athletic glory been thwarted by a total lack of coordination, muscle, and skill? No matter—on the iPhone and iPad, all you need are nimble thumbs and the occasional flick of the wrist to excel at sports and leisure activities.—Chris Holt
Let's Golf HD: An iPad-optimized follow-up to the iPhone game of the same name, Let's Golf HD shines on Apple's tablet. The visuals are simply lovely—the game's cartoony aesthetic works well, almost overshadowing the impressively nuanced golfing game underneath. The 3-D holes are gloriously rendered, and the attention to graphic detail is superb, but the game also comes loaded with options. You can play three random holes, play subsets of specific courses, try a specific hole, or compete in tournaments against other computer-controlled players—or your friends, via Wi-Fi or pass-and-play.
Pool Pro Online 3: When it comes to pool simulators, Pool Pro Online 3 offers iPad users a lot of polish, great 3-D graphics, and just the right amount of English. The gameplay is pretty intuitive, too: You can broadly aim your cue by swiping back and forth across the iPad's screen, or adjust its position more precisely by using a smaller, finesse-friendly bar below the pool table. And of course, you can switch camera angles to get a better view before you make your play. Pool Pro includes 8-Ball, 9-Ball, and Snooker, and you can choose from four different levels of difficulty. Beyond playing the computer, the game offers several multiplayer options—online via OpenFeint, peer-to-peer via Bluetooth or Wi-Fi, or pass-and-play.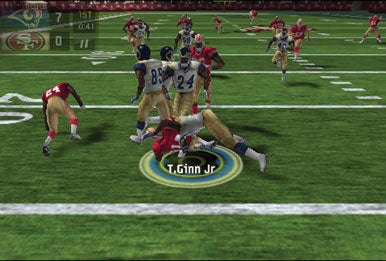 Madden NFL 11: The Madden franchise's tradition of excellent and realistic football continues with EA's Madden NFL 11 for the iPhone. The incredibly intuitive control scheme lets you take control of a number realistically depicted NFL teams. Though not packed with as many features as its console counterparts, Madden NFL 11 boosts better defensive mode features and graphics over last year's mobile edition. If you're new to Madden, or have loved every version that has hit stores, you're bound to like the latest season of this football stalwart.
Fishing Kings: With Fishing Kings, Gameloft once again proves it can make waves on the iPhone market. Fishing Kings uses the iPhone's accelerometer brilliantly as a miniature fishing rod. You cast by flicking your iPhone and then watch as the camera goes underwater with the lure so you can see all the fish below the surface and watch the fight as it happens. With more than 33 species of fish to catch, multiplayer functionality, beautiful graphics, and an intuitive control system, Fishing Kings will keep you coming back to your favorite fishing spots time and time again.
Strategic thinking
Gamers don't live by brute force alone. Sometimes, it takes a little brain power to end up on top, and these mobile games will certainly put your strategics abilities to the test.—Chris Holt
Monster Mayhem: The castle defense game Monster Mayhem pits you against wave after wave of snarling, cartoonish monsters. Thankfully, you've got an impressive arsenal of weapons at your disposal from knifes to flame throwers and bombs. This fantastic app brims with quality and attention to detail, as you balance arcade action with a little strategic thinking. The long campaign mode, alternate game modes, and three levels of difficulty add up to many hours of challenging gameplay.
Train Conductor 2: USA: It's clear that The Voxel Agents takes great pride in Train Conductor 2: USA, the sequel to Train Conductor. Train Conductor 2 has brand new areas modeled after four famous American cities and one landmark: Miami, New York, Nashville, Las Vegas, and the Grand Canyon. All of the artwork is colorful and well-drawn, while each level is fleshed out really well by a catchy in-game soundtrack. The gameplay consists of using your touch-screen to direct trains on parallel tracks to their properly numbered (or color-coded) stations. By tracing a straight line from one track to another, the corresponding train will follow the new path automatically. Train Conductor 2 is an intuitive, fun, and addictive game no matter what iOS device you use.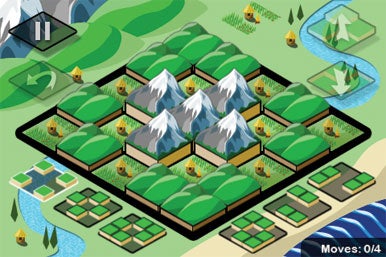 LandFormer: The premise behind LandFormer is quaint enough—you play on a 5-by-5 isometric grid of platforms that can be raised or lowered by up to two steps in a variety of patterns. A level typically starts with the platforms in a particular configuration, and your job is to lower and raise them strategically until everything's on the level. LandFormer may not have breathtaking 3-D graphics or Hollywood-style cinematic sequences, but it is one of those rare games that combine a simple and intuitive set of rules with a nearly infinite set of playable scenarios, making for an addictive and highly entertaining gaming experience.
Diner Dash: Grilling Green: In Diner Dash: Grilling Green for the iPad, you fill the well-worn shoes of Flo, the harried, hard-working waitress. Your job is to get customers seated, fed, and out the restaurant again as efficiently as possible; the happier you keep your customers, the more money you make, and the more you can upgrade your diner. While the previous editions of the Diner Dash series relied on lots of mouse clicks, you only need a series of finger taps to control Flo on Apple's tablet—a much better fit for the game.
Action heroes
Whether it's far-off battlefields, murderous aliens, or treacherous fruit, iPhone games pack in enough action for even the most demanding user.—Chris Holt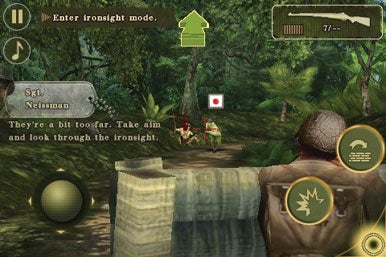 Brothers in Arms 2: Global Front: With Brothers in Arms 2: Global Front, Gameloft adds to its impressive list of graphically superb iPhone games. In this WWII simulator, you use a virtual joystick and pop-up buttons to duck bullets, grenades, and metal fragments in fully immersive 3-D battlegrounds. To fight the enemy, the game takes advantage of the iPhone's touch capabilities, allowing you to simply aim at an enemy with your finger. Though most games of this nature have a boilerplate story, BA2 backs up its impressive gameplay with a solid, enjoyable story for you to follow.
Predators: Based on the Robert Rodriguez film of the same name, Chillingo's Predators mixes over-the-top violence with well-rounded gameplay. You take control of a predator creature working to kill as many humans as possible in each level. With a virtual joystick and two simple control buttons, you can perform gruesome finishing moves on your human foes. As you progress in the game, you will learn more skills and gain more weapons to fulfill your never-ending desires for carnage.
Fruit Ninja: Halfbrick Studios' Fruit Ninja is a simple, slice-and-dice game enjoyable for all ages. You are a ninja. Your mission: use your finger as a samurai sword to slice any piece of well-rendered 3D fruit that comes across your iPhone screen. Be quick about it though, as the fruit will fall off the screen if you waste too much time before chopping it. The more fruit you chop, the more points you get. Though it may seem repetitive, the game's simple gameplay will have you coming back for more.