The iPad has taken yet another step toward becoming a full-fledged laptop replacement for business users with Quickoffice's release of a free update for its Quickoffice Connect Mobile Suite for iPad. The 2.0.0 version of the suite adds extensive text formatting and graphical editing abilities for PowerPoint 2003 files as well as viewing and presenting capabilities for PowerPoint 2007 files.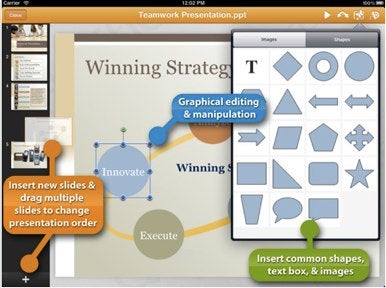 Quickoffice Connect Mobile Suite lets you create, open, and edit Microsoft Office files on your iPad. It features dedicated tools for working with Microsoft Word documents, Excel Spreadsheets, and PowerPoint presentations; it also includes built-in support for multiple online storage services including Dropbox, MobileMe, Google Docs, and Box.net.
With this update, Quickoffice Connect Mobile Suite users can now manipulate font type, color, size and style; add, delete and reorder slides; insert and rotate common shapes; change object layering; insert and edit text boxes; insert images saved within Quickoffice or from the iPad's built-in Photos app; and view presentations in slideshow mode on the device and on an external monitor.
Quickoffice Connect Mobile Suite costs $15 and runs on iOS 3.2 or later.