SLIDESHOW
The Week in iOS Apps: Augmented unreality
This week's roundup includes a trippy new iOS app from Radiohead, offering a musical window into a different world. Also on tap: apps to help you shop, read, and listen to music even better than you already do.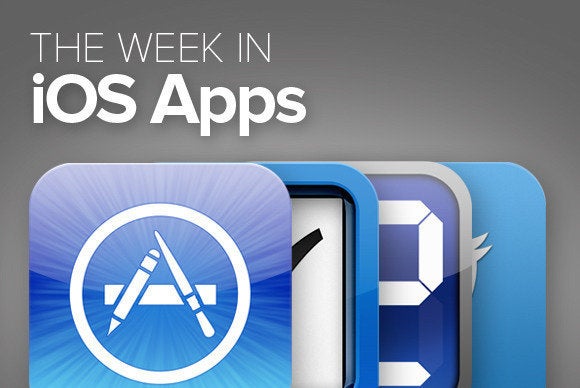 Augmented unreality
This week's roundup includes PolyFauna, a trippy new iOS app from Radiohead, offering a musical window into a different world. Also on tap: apps to help you shop, read, and listen to music even better than you already do.
Hum
Sensitive singer-songwriters might appreciate Hum, a $2 iPhone app that helps users create new songs. They can keep notes on lyrics, sing and record ideas for tunes, and share them easily with fellow musicians. The new app was updated this week to increase the clarity of text notes and to fix some minor bugs.
Ken Burns
It's Ken Burns's America—we're just living in it. The free Ken Burns app for iOS doesn't (as you might expect) pan slowly across the pictures in a device's photo library. Instead, it filters American history through the lens of Burns's many documentaries. Developers warn that "it's not a collection of Ken's filmography," but snippets of his creations are available for viewing as users explore the history. An in-app purchase of $10 unlocks more than three hours of video content.
Later
Later, a free iPhone app, isn't quite as cool as it's going to be. Right now, it simply reminds users to send communications—texts, tweets, and emails—and the proper time. Useful, but also something a simple reminder app can accomplish. In the future, developers say, the app will let users compose those messages to have them sent automatically at the programmed time. It's possible you'll want to download this app … later.
Net-A-Porter
This free lifestyle app for iPhone and iPad has long helped people decide what they'd most like to buy. The latest update brings the app into iOS 7 fashion, includes 360-degree videos of the products on display, and features recommendations from editors.
PolyFauna
How to describe PolyFauna, the free iOS app from Radiohead and Universal Everything? How about "augmented unreality?" The animations on your screen shift as you point your iOS device in different directions, creating the feeling of a window to a different world—all accompanied by sounds developed during the band's "King of Limbs" sessions.
Tocomail
Tocomail is billed as "safe email for kids." The free iOS app lets kids have their own email address, but offers parents the safety of being able to supervise their child's contact lists: Emails from people outside the list will be quarantined until the parent gives approval. Some of the features are available only in the $3-a-month premium version.
Unread
Remember RSS readers? They haven't gone away entirely. Unread, a $3 offering for iPhone, updates the concept with full-screen article views, stacked navigational cards, multiple themes, and, of course, plenty of ways to share via social media. Better yet? Every screen and every feature is available to users with visual impairments.
Weekend Read
This one is for the Hollywood types. Weekend Read is a free iPhone app that makes it easy to read screenplays in formats ranging from PDF to Final Draft to Fountain. (It also supports text and Markdown files for note-taking.) There are four fonts and five sizes to choose from as well as a nighttime mode, but unfortunately, it still doesn't have Morgan Freeman actually reading the screenplays to you.
Others of note
Shazam has updated with an improved news feed … Rdio now allows the creation of playlists directly from the app … and Wine Spectator is now available on the iPad.
Next Up: Check out these related slideshows
Today's Best Tech Deals
Picked by Macworld's Editors