Just in time for all the iPads Santa's cramming into stockings, AFK Studio has released The Funnies. It's an app that lets you enjoy all your favorite comic strips and editorial cartoons, without staining your hands with icky newsprint.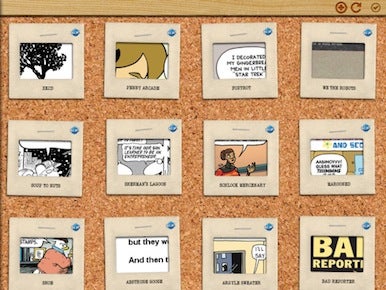 The Funnies provides access to more than 360 strips, from Agnes to Ziggy. The available comics list updates automatically over the Internet. You choose your favorite comics and lay them out over a faux wood background, and create what the developers call a "virtual billboard" from them. The strips themselves update automatically when new issues become available (you can't view comic archives currently, just the most recent strip).
If you see a strip you just must share, The Funnies lets you do so via Facebook, Twitter, or e-mail.
The Funnies costs $5 and requires an iPad running iOS 4.2.1 or higher.
Disclosure: AFK Studio partner Marco Tabini is an occasional Macworld contributor.