Swedish headset manufacturer Jays announced that its A-Jays Four iPhone earbuds for iPhone, iPod touch, and iPad are being released in the U.S. market. Jays headphones have picked up a number of awards from Macworld's international sites, so their addition to the U.S. product lineup adds a potentially attractive option to the midrange headset market.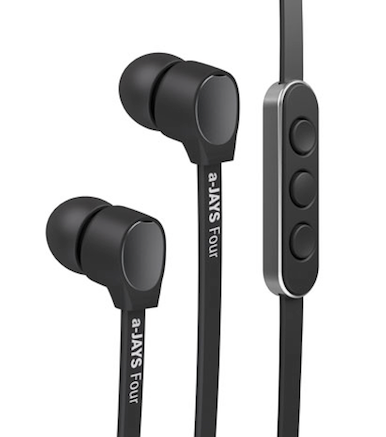 The A-Jays Four features rubber earbuds designed for use outside the ear canal, with flat wiring that is claimed to be "no-tangle." Earbuds come in five different shapes and sizes to fit your personal cranial architecture. A three-button inline remote is clearly styled to match the iPhone 4. The headsets come in both black and white varieties, in case you want to color-coordinate your cables to next year's iPhone, or to your favorite Chinese white iPhone knockoff.
The Jays website reports immediate availability of the a-Jays Four, but does not include U.S. release dates or pricing. Engadget reports that a company spokesperson gave them pricing of $70, with a U.S. release date in January 2011.