All work and no play may make for a dull existence, but the work still has to get done. Fortunately, we've found some mobile apps that will help you focus on the task at hand and maybe even add a little flair to your daily to-dos.
Extend your desktop
I love my Mac, but ounce for ounce, I feel even more pure joy when using my iPad and iPhone. Thanks to a variety of clever iOS apps, however, I can now keep playing with my iPad and iPhone in tandem with my MacBookPro, when circumstances dictate I use the Mac itself.—Lex Friedman
Air Display: Turn your iPhone or iPad into a wireless second monitor for your Mac with the $10 Air Display. After downloading the app, you install a free custom preference pane on your Mac to turn your iPhone or iPad into an extension of your desktop. You can position your iOS device in either orientation, and you can even use your finger as a makeshift mouse on the touchscreen. If you need a second monitor in a pinch or on the go, Air Display works quite well.
Mocha VNC: While Air Display extends your Mac's screen, Mocha VNC mirrors it. If you decide to step out into your yard while you wait for a large download to finish, you can use the $6 app to check in on your Mac's screen to see how things are going. Even better, you can use your finger as a virtual mouse, or take advantage of the touchscreen keyboard if you need to type. Depending on your network setup, you can even use Mocha VNC to check in on (and control) your Mac remotely.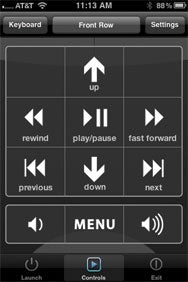 HippoRemote Pro: The helpful HippoRemote Pro is absolutely awesome for two different reasons. First, by design, the $5 iPhone app can masterfully control a Mac mini you've set up as a media center. The app turns your iPhone into a Wi-Fi remote control, perfect for navigating Front Row, Hulu, or DVD Player. Beyond that, though, you can also use HippoRemote as a wireless virtual trackpad in lieu of a mouse. Like Apple's Magic Trackpad, Hippo supports multitouch gestures like pinching and zooming and two-finger scrolling. If your Bluetooth mouse's batteries die or you just want some trackpad goodness with your desktop Mac, HippoRemote works wonders.
Briefcase: In the pre-iOS era, you could use your iPod as a portable hard drive by enabling something called "Disk Mode." The iPhone doesn't offer such an option, but apps like Briefcase solve that problem for you. Briefcase makes transferring files between your Macs and your iPhone totally painless by automatically discovering Macs on your local network via Bonjour and painlessly transferring files and directories in either direction. The $5 app can also view common file formats—images, Word and Pages documents, PDFs, and the like—so that you can read them on the go.
Playing nice with Dropbox
It's hard to identify the one thing that makes the Dropbox Web service so incredible. Is it the way it can sync files and folders magically, wirelessly, across any number of Macs, PCs, and other Internet-connected devices? Is it the fact that it's free? Or is it the fact that there are so many apps that integrate beautifully with the service?—Lex Friedman
Dropbox: The hybrid Dropbox app lets you browse all the files and folders you've stored on the service from your mobile device device. The app can view PDFs, Word and Pages documents, and images; it can also send files of any type to other compatible apps on your device. I don't use iTunes file sharing to get documents onto my iPad or iPhone; I just put them in Dropbox and grab them from there. The only thing that could make Dropbox even better is mostly out of the developer's hands: I wish every document-creation app featured a "Send to Dropbox" button. Fortunately, a couple other apps help out…
Office2 HD: The superb Office2 HD productivity suite gives iPad users the ability to create and view word processing documents and spreadsheets. But the app also features great integration with Dropbox. You can open, edit, save, rename, and delete files stored through Dropbox. (On top of that, Office2 HD offers support for Google Docs, MobileMe/iDisk, and a few other cloud-storage services.) The $8 app is a fine editor, sporting an impressive feature set even without the Dropbox integration. But it's that impressive integration that propels Office2 to a place of prominence on my iPad.
iAnnotate PDF: While Office2 HD and the Dropbox app itself can both view PDFs, they can't do anything with them. That's where iAnnotate PDF comes in. The $10 iPad app truly lets you have your way with your PDFs, letting you mark up your PDFs in a host of ways. You can add text notes, highlights, underlines, free-form drawings, and bookmarks. It also happens to be a great way to sign PDFs—with your finger instead of a pen—without ever needing to print anything. And of course, iAnnotate PDF integrates beautifully with Dropbox.
Job well done
Remember the crack when the iPad was introduced about it being nothing more than an oversized iPhone? Clearly, whoever made that joke never realized how a bigger screen could revolutionize what apps would enable us to do. While the iPad isn't yet a laptop replacement for those who need to get a lot of work done on the go, these apps will go a long way toward turning your tablet into a productivity booster.—Jeff Merron
Pages: Apple ported its entire iWorks suite to the iPad, and each $10 component— Numbers, Keynote, and Pages—can be a capable stand-in for its desktop counterpart. But the latter app in particular is a solid word processor for basic or "stylish" documents, with 16 templates for items such as résumés, invitations, and posters. While Pages for the iPad has a long way to go before it's a full-featured replacement for the Mac versions of Word or Pages, it's good enough to get real work done.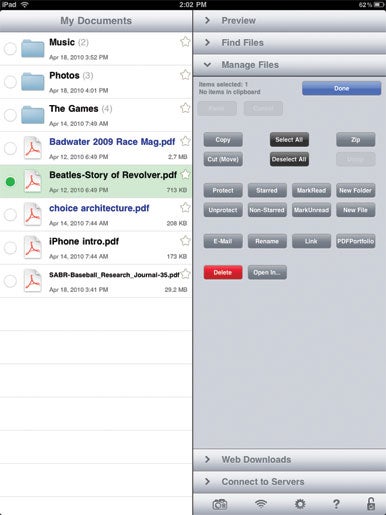 GoodReader: Whether you're using the iPhone or iPad version of GoodReader, this file importing and viewing app works great. The app now enables you to import and view documents from Web-based file-sharing/backup sites such as DropBox, box.net, iDisk, and others. You can also import and view Google Docs files and Mail attachments, import files via Wi-Fi, transfer files from your Mac via USB, and download files from the Web. In addition to document viewing, GoodReader's file management capabilities let you protect files, star them, mark them as read, create new files and folders, e-mail files, rename files, create links to files, and compress files and folders. The app also offers a feature called "PDF reflow," which automatically extracts text from PDF files and outputs a readable text file, when possible.
Things: On its most basic level, Things functions as a to-do list. But it is also a terrific tool for users who are juggling lots of multi-step projects. Things offers users multiple methods for managing task and defaults to "Getting Things Done" methodology and terminology. For users not familiar (or comfortable) with Getting Things Done, though, these can be safely ignored, or adopted slowly. Users of the Mac version of Things should be pleased with its flawless Wi-Fi syncing between the Mac and the $20 iPad version, which is a terrific app with a stunning interface.
1Password for iPad: If you've got information that's sensitive but hard to remember, 1Password is your solution. Like its Mac counterpart, you can store just about anything in 1Password's password-protected vault—login names and passwords, credit card and account information, software registration codes, and free form notes. You can't integrate 1Password into your iPad browser like you can on a Mac, but this version includes an integrated browser from which you can access sites and autofill information.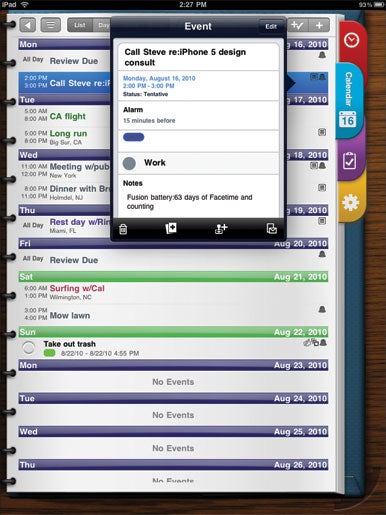 Pocket Informant HD: Though it may be a calendar app, Pocket Informant HD also incorporates heavy-duty Getting Things Done time- and task-management capabilities. Like other GTD-oriented apps, this $7 iPad offering provides a seemingly endless array of options for categorizing and describing tasks and events. But what makes Pocket Informant HD a winner is that it enables you to choose between GTD, Franklin Covey, and Toodledo task-management methods. You can categorize any given item in about ten different ways, depending on which method you choose. You can safely ignore most categorization options, as well, and customize to your heart's content.
Mobile edutainment
Your iPhone or iPad can be a great tool to keep your children entertained and occupied during interminable car rides and lengthy waits in line. But if they're not careful, it might also teach them a thing or two as well.—Roman Loyola
Brain Quest: Blast Off: Kids like to feel empowered, and Brain Quest: Blast Off does an excellent job of doing just that. Available for kids grades 2 through 7 as a series of $3 downloads, Brain Quest asks questions based on the grade level in a variety of subjects, including math, social studies, science, and language arts. The questions are challenging but not too difficult, and kids can earn digital trophies for successfully completing different levels, providing a rewarding sense of accomplishment. Brain Quest has a lot of questions to keep your kids coming back for more.
Doodle Buddy for iPad: The iPad offers a multitude of drawing apps, but when it comes to kids, the free Doodle Buddy for iPad offers an approachable interface as well as a few advanced tools for when your budding Picasso is ready to use them. Kids can paint with four fingers at a time, use different stamps, draw on an included template, draw on a photo in your library, and more. The iPad version offers more drawing tools than its iPhone counterpart (though that version has a cooperative mode where two iPhone users can work on the same drawing from separate phones).
Toy Physics: Try to explain physics to a kid, and you'll probably be met with glossy eyes. Toy Physics helps kids understand through a game that involves falling toys that you have to put into a toy crate by drawing platforms with your finger. The toy shape and weight affect how they fall, and there are also obstacles that get in the way. It's an addictive game that requires quick thinking and a critical eye, and three difficulty settings keep the game's 40 level fresh and challenging.
Itsy Bitsy Spider HD: You wouldn't think that overly familiar childhood song about spiders, spouts, and unexpected rainstorms could produce a lot of entertainment, but Itsy Bitsy Spider HD proves differently. Tap on just about anything depicted in the colorful outdoor scene in this $2 iPad app, and something happens—windows slide open, animals jump out, and more. Often, tapping on the same object multiple times will trigger a different action. Young children will love discovering all the things they can do simply by tapping the screen of this cute, well-designed app.