Apple's iOS is the engine that makes the iPad, iPhone, and iPod touch go. Want to see what all the fuss over Apple's mobile operating system is about? These three collections showcase apps that take advantage of location-awareness features, iOS 4's multitasking powers, and the social networking capabilities available to your mobile device.
Location, location, location
In the social networking world, it's not always just who you know—it's where you are as well. These apps take advantage of the iOS's geolocation features to find your friends, meet new people, and share great experiences.—Beau Colburn
Foursquare: If you're a Facebook or Twitter user, chances are good you've seen friends post about checking into their favorite restaurant or coffee shop via Foursquare. So what's all the fuss about? Just launch the free app on your GPS-enabled iPhone, and it will tell you the venue that's closet to you. You earn points by checking into spots; the more you check in, the better your chances of becoming "Mayor" of a given spot. Foursquare makes it easy to see where your friends are gathering, and to add a little friendly competition your daily routine.
Loopt: Like Foursquare, Loopt offers a way to know where your friends are and what they're doing; however this free social networking app takes a slightly different approach. Loopt users can quickly glance at their map to see all nearby friends, events, and suggested spots. For a steady stream of updates, keep the app running in the background on iOS 4 (if you're not afraid of taking the hit on battery life). Less about competition, Loopt puts its focus on quick access to your fellow "Loopster" friends.
Yelp: The Yelp.com Website has been providing customer-generated reviews for eating and drinking establishments for many years, and being able to access that information on your iPhone via the mobile version of Yelp makes the service even more convenient. You're probably aware of the best pizza in your neighborhood, but what if you're traveling and have a craving for a good slice? Just type "pizza" into the app, and you'll have a listing of pizza joints around you, complete with comments and ratings. Recent updates added the ability to check in Foursquare-style, and the app now supports multitasking as well; Yelp is now a universal offering, with an iPad-specific interface for tablet users.
Waze: Put a social spin on the time you spend in the car with the free Waze. Users of the hybrid iPhone-iPad app help each other by reporting common delays like construction or accidents. When you come within a certain range of these reports, Waze alerts you. Built-in turn-by-turn directions, combined with handy tips along the way make Waze a helpful companion for your next road trip. The app needs time to "learn" the roads in your area, so treat Waze as a more casual GPS system than other dedicated turn-by-turn direction apps. For extra fun, a Pac-Man-style game earns you points as you drive over certain featured roads.
Multitasking marvels
As iPad owners have discovered with the recent iOS 4.2 update, the best part of iOS 4 has been multitasking. Beyond more quickly switching between apps, though, you can now let background processes from third-party apps keep running even if you switch to another app. These three apps offer excellent examples of iOS 4 multitasking in action.—Lex Friedman
Skype: The free Skype app for iPhone doesn't yet support video conferencing, but that's about where its limitations end. You can place Skype calls over Wi-Fi and 3G, and the audio quality is vastly better than a regular cell phone call. You can also, of course, use Skype's instant messaging features. But what makes Skype on iOS 4 so magical is that you can exit the app and remain logged in for receiving calls, and you can keep talking to your Skype compatriots while playing games, checking e-mail, or otherwise using your iPhone.
Pandora Radio: Tell Pandora Radio what music you like—artists, composers, or individual song titles—and the free app instantly starts streaming music you will probably enjoy. The magic continues with iOS 4—Pandora can keep playing music while you're in other apps. Even better, when you double-tap the Home button to expose the iPod controls, they'll actually work for the Pandora app instead. Pandora excels at finding songs that match your preferences, and the audio quality is excellent, too.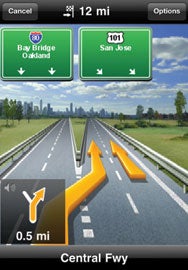 Navigon MobileNavigator: It may be one of several turn-by-turn navigation apps for the iPhone, but Navigon MobileNavigator earns higher marks from Macworld than most of its competition. The $45 app offers all sorts of fancy GPS features—text-to-speech to announce road names, lane and speed assist, 2D and 3D views, single-tap home button, and more. Even better, of course, is that with iOS 4, it's okay to take calls or check your e-mail while Navigon's guiding you; the app keeps track of where you are even while it's running in the background. Since Navigon supports fast-app switching, you can switch right back to the app when you're ready to head back to the map.
Stay social
E-mail and instant messaging have become passé. These days, the cool kids stay in contact via a slew of other social services. If you're part of the social networking world and you have an iPhone in your pocket, you're plugged in 24/7. This trio of iPhone apps can help you navigate the social waters.—Lex Friedman
Twitter: Twitter's free, official iPhone/iPad client is my favorite way to access the site. The app provides an attractive and intuitive means of browsing your Twitter timeline, with cleverly-implemented subtle gestures that feel like they should be built into the iOS: Pull down on your timeline to refresh it, grabbing the newest updates. Swipe across an individual tweet to expose options for replying, retweeting, e-mailing, and such. Beyond its clever gestures, Twitter ports a powerful feature set. You can save posts as drafts, shorten links, tweet photos and videos, browse rising trends, and search.
Boxcar: As great as Twitter is, it doesn't tell you the moment you score new mentions or direct messages on the service. That's a job for Boxcar, which integrates with oodles of Twitter iPhone apps and sends you push notifications anytime someone tries to reach out to you on the site. Your first service is included free with the app, but if you also want push alerts when you get comments on Facebook, when you receive e-mails, or when your favorite RSS feed is updated, you can add those for $1 each. Alerts generally arrive in less than a minute. With Boxcar installed, your online social experience gets a lot more immediate.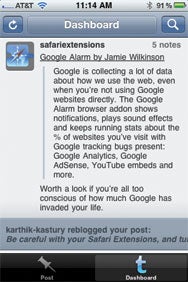 Tumblr: Anything you can do from the Tumblr Website, you can do just as easily from within the free Tumblr app, which makes it easy to post to your blog whenever inspiration strikes. Impressively, the app supports posting in all of Tumblr's supported formats—text, photos, videos, audio, quotes, links, chat transcripts—and the custom interfaces for creating each kind of post look and work great. The iPhone app also provides access to your full Dashboard, where you can scroll through all of your friends' activity.