Eltima Software has released the 2.0 Beta of Folx, its download manager and torrent client for Mac OS X. Beta 2.0 adds iTunes integration, RSS feed downloading options, and more advanced file management abilities to the handy utility.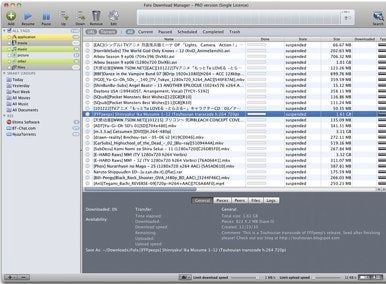 Standard Web browsers don't offer many options when it comes to managing and organizing your downloads. Folx replaces your browser's download manager and organizes your downloads via a tagging system that identifies and tags specific filetypes according to parameters you set up. Tagged downloads are automatically placed into corresponding folders on your Mac, helping you stay organized and keeping your Downloads folder uncluttered. Tolx can also increase download speeds by splitting your downloads into multiple threads, and can run as a BitTorrent client for Torrent downloads.
One of Folx 2.0's biggest new features is its ability to integrate with iTunes. All downloaded music and video can now be automatically added to iTunes playlists, with Folx creating new playlists named after the downloaded item's tag. You can also now add RSS feeds to Folx and set up parameters for the program to automatically—or manually—download certain content from your RSS feed.
Folx's files management system has also been renovated, and now allows file prioritization when downloading multi-file content, and the creation of "smart groups" that unite certain files according to your chosen parameters.
Folx is available as a free and pro version. The free version gives you the essential functionality of a download manager and a torrent client, including the ability to split downloads into two threads, auto-resuming of interrupted downloads, prioritizing download tasks, manual control of upload and download speed, and more. Folx Pro, which costs $20, includes more advanced download splitting options, download scheduling, automatic smart speed control, and built-in torrent search on multiple trackers.