Star Battalion is a fast-paced 3D space shooter that boasts impressive, Retina-optimized graphics, a nice variety of missions, and cooperative multiplayer mode.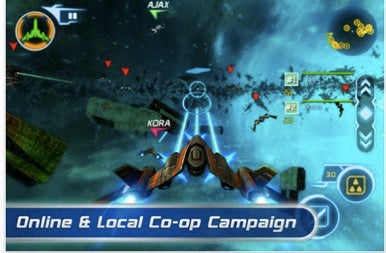 You play as Sonan Firehawk, a heroic resistance pilot fighting against the evil Royalist empire. Like many Gameloft titles, the story, characters and gameplay borrow heavily from other franchises. In Star Battalion, Gameloft's writers were clearly inspired by Star Wars—going so far as to pit the player against robotic walkers on an icy planet, and sending you after a giant, one-eyed planet destroying ship. Fortunately, the lackluster plot is used mostly as an excuse to send you on an impressively wide array of missions. You'll embark on typical dogfighting engagements but also have the chance to tackle more espionage-type missions—like stealing an enemy fighter ship and piloting it through an enemy base.
The game is played in landscape mode and uses the iPhone's accelerometer—and the iPhone 4's gyroscope, if applicable—for controlling your ship. A throttle control on the side of the display lets you choose between slow, medium, and high speeds, and two attack buttons beneath the throttle fire lasers and missiles, respectively. The button layout felt simple and intuitive to me, but those with beefier fingers might have a harder time, as some of the buttons are pretty close together.
Gameplay is heavily reliant on dogfighting, which means responsive controls are crucial. Thankfully, Star Battalion delivers intuitive and adjustable controls that are a breeze to play with. Accelerometer sensitivity is adjustable, and once you figure out an ideal setting, controlling your ship is second-nature. Additionally, you'll have several iconic piloting maneuvers to aid you in battle. You can perform barrel rolls—used for evading enemy missiles—by swiping your finger horizontally across the screen in the direction you'd like to roll, and you can perform snappy U-turns by swiping your finger upward.
The game uses an auto-targeting system that locks onto enemy ships when they are in range. When locked on to a target, you can blast it with your laser cannon or hold down the missile button to fire a guided missile. More powerful ships can lock on to multiple targets at once, which can make for some seriously gratifying multi-kills.
The graphics are impressive, with the game able to render dozens of colorful, detailed 3D models with few performance issues. This is an important point, because Star Battalion is chock full of epic space battles that often involve twenty or more ships battling it out in a vast space arena. The ships are detailed and nicely scaled, and the space environment is well rendered and rich with cool graphical touches, like floating space debris and asteroids.
Star Battalion offers cooperative multi-player mode via local wi-fi and bluetooth, or online via Apple's Game Center and Gameloft Live. Multiplayer worked admirably, though it was sometimes difficult to find other players. What baffles me is Star Battalion's omission of a deathmatch mode, as the tight controls and large, epic battles make it an obvious candidate for such a feature.
Despite its impressive graphics, varied missions, and responsive controls, Star Battalion is not without its flaws. My biggest gripe is the game's incessantly—and sometimes misleading—linear gameplay. Though the world of Star Battalion is designed to look expansive and endless, invisible barriers keep you on course, leaving little room for exploration. Even more frustrating is when the level designers add what might appear to be a secret tunnel or shortcut that turns out to be little more than an invisible wall for you to smash your ship into. Also, while your mission objectives tend to be fairly varied, the missions themselves too often devolve into tedious space battles with dozens of faceless enemy ships.
Despite its shortcomings, Star Battalion is a very enjoyable game, thanks mostly to its excellent graphics and tight controls. If you're a fan of Starfox, or 3D space shooters in general, Star Battalion should not disappoint.
[David Dalhquist is a frequent contributor to Macworld.]