When 2010 began, the software that ran the iPhone and iPod touch was still called "iPhone OS"; by the end of the year, it had been rechristened iOS. You don't have to look any further than that to see this was the year that Apple's mobile operating system found itself on equal footing with its venerable Mac OS X counterpart. Combined with a category-busting new product, a pilfered iPhone prototype, and antenna woes, the past year of iOS devices is something that we'll really never forget.
iPad, therefore I am
By the end of 2009, the frenzy over an Apple tablet had hit a level usually reserved for teen pop sensations and political arguments. Apple didn't wait long to deliver, either: at a special event on January 27, Steve Jobs took the stage at the Yerba Buena Center in San Francisco and introduced the iPad.
The tablet's most prominent feature was its larger footprint, with a 9.7-inch screen in place of the 3.5-inch display of the iPhone and iPod touch. Also impressive were its larger battery, which Jobs said could last for an impressive 26 days in standby mode, and its 1GHz A4 processor, designed and built by Apple itself. Though the 3G-enabled iPad necessitated staying tethered to AT&T, the deal was somewhat sweetened by a no-contract plan that let users pay on a monthly basis when they needed it.
While the iPad would come with many—though not all—of the same apps as the iPhone (albeit designed for the larger screen), Apple also unveiled a handful of apps that took specific advantage of the tablet: iBooks, an e-reader with an accompanying e-books store, and tablet-optimized versions of the company's entire iWork suite.
Because the device wasn't due to ship for more than two months after its announcement, the speculation over whether or not Apple would create a tablet switched to whether or not it would be any good once it arrived. Many critics decried it as merely a "big iPhone," but others—including yours truly—wondered if this wasn't a more substantial shift in the direction of computing.
Then consumers delivered their verdict: The iPad sold 300,000 units in the first day of its availability, and hit the one million sakes mark within 28 days. In the fourth quarter of 2010, Apple sold 4.19 million of the brand new tablets—compared to 3.89 million Macs. In fewer than three quarters of availability, the company managed to move 7.5 million of the new devices.
The big 4.0
As has become its fashion, Apple unveiled the latest edition of its mobile operating system in the spring. This year, that update came with the most anticipated feature since copy-and-paste: multitasking support. After years of suggesting that push notifications could take the place of running several apps at once, Apple revealed its own multitasking solution: a small set of background-enabled features that would provide most of the functionality that consumers wanted, without overtaxing the device and gobbling up battery life.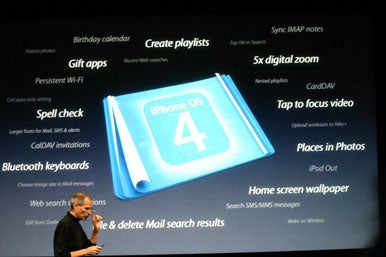 While multitasking was undeniably the star of the show, the rest of iPhone OS 4.0, as it was then dubbed, featured a handful of other niceties, including folders, an iPhone version of the iBooks e-reader, and support for Apple's new mobile ad network, iAd (risen from the ashes of the purchased Quattro Wireless).
Really, the only disappointing news to come out of the event was the shipping date: iPhone OS 4.0 would be released in the summer for the iPhone and iPod touch, but it wouldn't make its way to the iPad (which had just begun shipping when the software update was announced) until the fall.
Three days of the iPhone prototype
It was the blog post heard round the world: In mid-April, gadget site Gizmodo published a lengthy examination of what it claimed was a prototype next-generation iPhone—and the Internet exploded.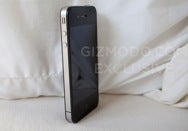 The whole story, when it eventually was assembled in all its glory, sounds more like a potboiler than reality. Apple engineer Gray Powell was testing a prototype version of the iPhone 4 in the field; the device, which was concealed in a case that made it look like an iPhone 3GS, fell out of his bag while he was at a Silicon Valley bar. It was then found by 21-year-old Brian Hogan; when Hogan figured out what he had stumbled upon, he began shopping the phone around to various tech publications.
Gizmodo eventually agreed to fork over $5000 to Hogan to acquire the unit, which they examined—and dissected—in minute detail for their piece. When contacted by Apple to request the return of the prototype, Gizmodo agreed to hand it over in exchange for a written request that they could publish. Editor Brian Lam later claimed that the Gizmodo staff "didn't know this was stolen when [they] bought it."
Not long after the unit was returned, authorities raided the home of Gizmodo editor Jason Chen, seizing his property as part of the investigation. This move launched an all-out firestorm over the rights of journalists and the legitimacy of the search warrant.
That warrant for Chen's home—which was later published in full—was eventually withdrawn after Chen agreed to cooperate with authorities. As of September, the authorities had reportedly concluded their investigation, but charges have yet to be filed.
iPhone 4, for real
Thanks to the Gizmodo leak, Steve Jobs's introduction of the iPhone 4 during Apple's Worldwide Developer Conference in June was robbed of much its thunder. The design of the iPhone 4 was identical to that of the stolen prototype, although the announcement shed light on the device's actual features, such as the high-resolution Retina display, LED flash, front-facing camera and, of course, the soon-to-be-infamous integrated antenna.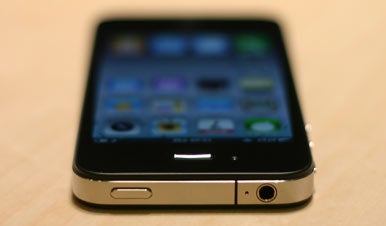 Slimmer than its predecessors, the iPhone 4 also packed more punch, thanks to 512MB of RAM and a version of the same Apple-engineered A4 chip that the company had used in the iPad. Also included under the hood were 802.11n Wi-Fi, a three-axis gyroscope, and a more powerful 5-megapixel camera that was also capable of capturing HD video.
But the feature that Jobs saved for his trademark "one more thing" moment was a seamless video chat system, dubbed FaceTime. Though FaceTime was first available only between owners of iPhone 4, it later expanded to the Mac and the revised iPod touch. And though it still only works over Wi-Fi, Jobs said that Apple hoped to bring it to 3G after consultation with carriers. In addition, Apple positioned FaceTime as an open standard available to other vendors; no third parties have yet to adopt it, though it's unclear whether or not Apple has actually followed through on its promise.
It was during the WWDC presentation that Jobs also announced that the iPhone OS would henceforth be known as iOS, reflecting its status as a multi-device operating system.
Here a -gate, there a -gate, everywhere a -gate -gate
As with any first-generation device, the iPhone 4 had its fair share of kinks, including reports of yellowing displays and busted proximity sensors, but these quickly paled next to what came to be known as "Antennagate."
Early iPhone 4 owners quickly noted that when the phone was held with a hand bridging the two segments of the external antenna on the bottom left corner of the phone—dubbed the "death grip"— the phone's signal could drop perceptibly.
But Apple's initial response was scattershot. Early on, Steve Jobs reputedly told one customer via e-mail "Just avoid holding it that way." Then the company later issued an official statement saying that all phones suffer from this problem in varying degrees, but reiterated Jobs's initial advice—don't hold it that way—along with an additional suggestion to use a case. Later, Apple released a software update that it claimed would help fix the problems by recalibrating the signal strength bars, which used a faulty algorithm.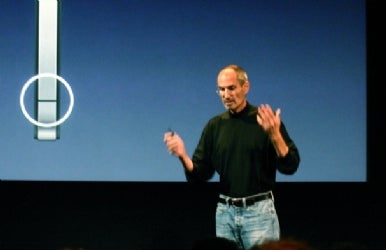 None of that did much to quell the rising tide of those complaining about the problem. So, in July, Apple held an unprecedented press conference in which Jobs spent 15 minutes talking about the antenna problem. He demoed similar problems with other popular phones (which made their manufacturers none too happy) and then announced that all iPhone 4 owners would be eligible to receive a free bumper case from Apple. Members of the press also got a tour of the company's extensive super secret labs for testing antenna reception.
While the arguments lingered on, they didn't seem to bother consumers: the company sold a record 14.1 million iPhones in the first full quarter of the iPhone 4's availability.
For a gate of a different color, look no further than Apple's continual inability to ship a white iPhone 4. Promised at the device's unveiling in June—where it was glimpsed and even handled by Macworld editors—the white version of Apple's latest phone has suffered from delay after delay after delay, and is currently due to arrive in spring 2011—just in time to be superseded by a new model of iPhone.
Rules of the road
After years of wrestling with unclear App Store rules and suffering rejection after rejection, iOS developers woke up on September 9 to find that Apple had torn down the wall and published its official app-review guidelines, announced a review board for appealing rejections, and reversed a rule or two in the process.
Among the latter, Apple lifted a ban on third-party software used to create iOS apps—a stricture that had been aimed primarily at Adobe's Flash CS5—as well as relaxing a rule on the collection of information for third-party ad networks.
While the changes have not appeased all developers, they did have a measurable effect: in September, previously banned third-party clients for Google Voice began appearing on the store, followed by the once-controversial official Google Voice client. A similarly contentious Google Latitude client has since made a debut as well.
Thing 4.1 and Thing 4.2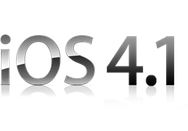 Making good on his promise to bring iOS 4 to the iPad in the fall, Steve Jobs announced in September that Apple would release two significant software updates in the following months: iOS 4.1 and 4.2.
Focusing mainly on the iPhone, iOS 4.1 added HDR photos, TV show rentals, and Apple's new Game Center social networking service. The 4.2 update would bring iOS 4 features to the iPad, though it also included long-awaited wireless printing capability— AirPrint—and a new system called AirPlay that would allow iOS devices to stream media to the new Apple TV (which itself runs a flavor of iOS).
While both updates combined to make iOS devices more capable than ever, there are still a few places where Apple's current OS falls short—or, for the more optimistic among us, opportunities for future expansion in 2011 and beyond.
Future imperfect
Speaking of 2011, what will next year bring for iOS? Some things seem a lock, given Apple's past tendencies: new versions of the iPhone, iPad, and iPod touch. Rumors of a Verizon iPhone have only picked up steam in the past few months, though whether it will focus on current versions of cellular technology (CDMA) or the nascent next-generation standard (LTE) is uncertain. The iPad seems certain to gain FaceTime capabilities, and perhaps a few other tricks as well. iOS 5 will probably be showed off in the spring for shipping in the summer.
And those are just the products that we've already met—there's no telling what else Apple has up its sleeve. But if the world of iOS is half as eventful in 2011 as it was in 2010, we're in for quite a ride.