CatPaint for iPhone has been updated to version 2.0, sporting what developer Davander Mobile calls "a vastly improved user interface," double the number of "cat brushes," and newly introduced cat laser technology.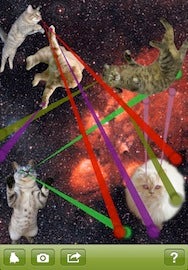 When CatPaint was introduced a little over a year ago, Macworld summed it up thusly:
Are your photographs suffering from a decided feline shortage? There's a cat for that.
Indeed, the app's goal is to empower you to mix some meow into your favorite photos via your iPhone. Pick a photo (or take one with your iPhone's camera), add some cats, optionally enable their new laser eyes, and then share your cat-laden masterpieces with friends.
CatPaint 2.0 is a free update for the proud masses who already have CatPaint installed on their iOS devies, and a $1 purchase for everyone else. It requires iOS 4.0 or later and a penchant for feline-festooned photographs.