In October, Amazon promised that users would be able to lend Kindle books to each other by the end of the year, and the retail giant has at last delivered that feature—just under the wire. On Thursday, the company quietly updated its e-book system to support lending titles.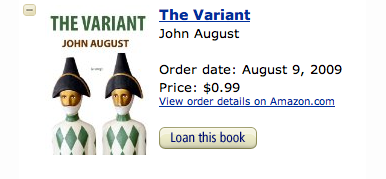 Like its major lending-enabled competitor, Barnes & Noble's Nook, you can lend some Kindle titles to a friend for 14 days. However, the system comes with its fair share of limitations: you can only lend each title out once, the original owner can't read it while it's loaned out, and the only titles available for lending are those that publishers have explicitly deemed eligible. Those titles that can be shared will be explicitly marked on their product pages.
Kindle title-sharing is not available just to owners of the hardware e-reader device, but to users of Kindle software on Mac, PC, iPad, iPhone, BlackBerry, and Android. Unfortunately, only customers living in the U.S. can loan out a title; international users may or may not be able to accept loans, depending on the publishing rights of the title in their respective countries.
To share a book, you can either loan it from the Manage Your Kindle page on Amazon's site, or from the product page of a book you've already purchased. In both cases, you specify an e-mail address for the person you want to share with—that person then has seven days to accept the loan, after which the item reverts back to your possession (fortunately, an unaccepted loan doesn't count against your limit of one loan per title). You can view the status of your loans via the Manage Your Kindle page on Amazon's site, and the borrower will be notified three days before the end of the loan period by a courtesy e-mail.
With Amazon and Barnes & Noble having implemented sharing functionality, it seems like only a matter of time before Apple follows suit with its iBookstore titles. Personally, I'd like to see Apple try and leapfrog its competitors by getting publishers to relax the single-loan restriction—to my mind, this is one place where e-books are less convenient than their physical counterparts. But digital content providers have tended to be pretty stingy in these scenarios, so I suppose I shouldn't be holding my breath for the entirety of 2011.
Kindle (Wi-Fi, 3rd Generation)