Mobile software developer m3me has released the $10 Remote Conductor app for iPad, which makes your iPad a new input device for your Mac.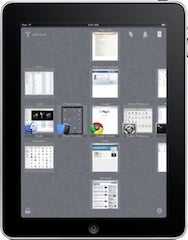 The app has three modes. In Trackpad mode, the entire iPad surface becomes a large trackpad, with support for multitouch actions. In Launch mode, a master list of all of your applications, organized by folder, is displayed onscreen to provide you with rapid access to these icons. (An added nice touch: your Dock is replicated on the iPad for even faster access.)
But in my opinion, the pièce de résistance is Switch mode, which displays all of your Mac's windows in a horizontal tree inspired by Exposé. Scroll left and right to see application windows organized by application; scroll up and down if a single application has more windows than can be displayed onscreen. Switch covers windows you've minimized, as well as windows in any additional Spaces you're running, so it's easy to find windows you've temporarily misplaced. Tap on a window to bring it to the front on your Mac; tap on the application icon to do the same for all of the application's windows.
Remote Conductor requires an iPad running iOS 3.2 or higher and a Mac running Snow Leopard. (It works via Conductor Server for Mac, which is a free download, but requires Mac OS X 10.6.) The Mac and the iPad must be on the same Wi-Fi network.