Artists who want to make graffiti without running afoul of the law—or inhaling too many paint fumes—have a new iPad app to help them leave their mark.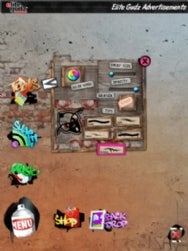 Graffiti Spray Can 2, an offering from developer Elite Gudz, went on sale in the App Store last week. Like its predecessor for the iPhone, the app lets users make spraypaint-style artwork on a variety of urban-themed digital backgrounds. Both editions offer users the satisfying option of shaking a digital spray can and hearing the familiar rattle of crime-in-the-making. (A video of the iPad app can be seen below.)
The new iPad edition of the app offers users a wider array of features, including more background templates and expanded options for an artist to fine-tune the spray size and paint thickness coming out of the digital "can." The new app also comes with three tracks from rapper PoeRilla to serve as background music to the graffiti-making; users can also import their own music. The app also also offers access to Elite Gudz's Web store, where users can purchase theme packs that include stencils and fonts from well-known graffiti artists. Users can share their creations via Facebook, Twitter, or e-mail, or save them to their iPad's photo album.
Graffiti Spray Can 2 is free, and compatible with iPads running iOS 3.2 or later.
Read more…