HDMI has become the way to connect your home theater devices to your HDTV. It's easy to see why: High-Definition Multimedia Interface (HDMI) handles video and multi-channel audio in a single cable. To get HD quality otherwise, you need an analog component video cable—which has separate connectors for red, green, and blue—as well as a digital audio cable. HDMI equals less cable clutter.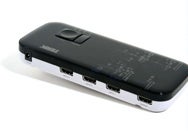 You'll now find HDMI ports on cable boxes and DVRs, Blu-ray players, game consoles, Apple TVs and other streaming media boxes, many point-and-shoot and DSLR cameras, and more. However, as the number of components in your home theater grows—you might have even picked up a few more over the holidays—you'll run into a problem. Namely, you have more HDMI-enabled products than HDMI inputs on your HDTV. Many HDTVs, especially older ones, come with just one or two HDMI inputs.
Rather than constantly unplugging and replugging cables, there's a good solution to that problem that doesn't require buying a new TV. HDMI switches—also known as HDMI switchers or HDMI switching boxes—are hubs for your home theater's audio/video connection needs: These simple devices accept input from multiple HDMI sources and send the signal you choose to your HDTV through one HDMI cable.
Once the domain of the serious home theater aficionado, you can now find a plethora of these devices on the market, and in a wide range of prices (from $16 for a two-port push-button switch from Monoprice to $100 or more) from brands like Sony, IOGear, and RCA, as well as companies you've probably never heard of before (or from no-name vendors). Sometimes it's hard to tell what you get for your money in HDMI switches; more expensive models, for example, will offer multiple outputs, so you can connect to more than display. But for most home theater users, a basic switch will do the job.
To switch between components, you can either manually select the device on the HDMI switch or use a remote control (most HDMI switches come with a separate remote, but you can often program a universal remote to do the job). Many current HDMI switches, such as Terk's three-port Smart HDMI Switch (available online for less than $50), offer automatic switching—the most-recently powered-on device gets selected. This is convenient in most cases, since no additional action is needed on your part.
In my experience, many of these devices come with scant documentation. In general, you want to find a switch that supports HDMI features that at least match your components' abilities. I had trouble finding switches that support HDMI 1.4, the latest spec, but many support HDMI 1.3b, which was good enough for the devices I own.
Switching troubles
HDMI switches don't work perfectly with all devices; always-on components such as DVRs are particularly troublesome. Since an always-on device never powers off, it won't release the HDMI switch automatically. Some HDMI switches support port prioritization, which solves this problem: It gives priority to the device on input 1 over input 2, for example. This means if you have a DVR on input 2, and turn on the Blu-ray player on input 1, it switches (if you had the DVR on input 1, it would never switch to input 2). When you turn off the Blu-ray player, it reverts back to the DVR.
One potential drawback to keep in mind when consolidating your devices onto a switch: your devices will be sharing the same input on the TV, which means they all use the same color profile. I noticed that Blu-ray movies looked dark when I used the same settings I have for my normal HDTV signal. To overcome this, I recommend trying to pair devices that use similar color profiles on a single HDMI switch.
Other options

If an HDMI switch isn't what you want, you have a few other options if you've run out of HDMI inputs on your HDTV. If you need to upgrade your home theater A/V receiver, you can avoid an HDMI switch by selecting a receiver that does it for you. Many current receivers can take two or more HDMI inputs and use a single output in return. For example, both Pioneer's $549 VSX-1020-K and Yamaha's $600 RX-V667 receivers can handle up to six HDMI sources.
And you can always opt for the good old component cable route if your device supports it—it may be require more cables, but it works pretty well, too.