You may be a poet and not even know it. But even poets and songwriters occasionally get stuck on a word. What rhymes with iambic pentameter, anyway? Under such circumstances, a decent rhyming dictionary is indispensable.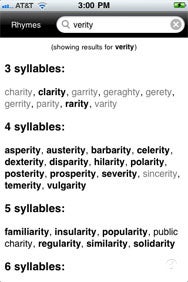 Ben Turley's Rhyme Time helps fill the bill as a simple but reasonably sophisticated rhyming dictionary for the iPhone and iPod touch. The interface is what you might expect of a dictionary: drab and utilitarian. You tap the search bar and up pops the keypad. Type in your word and the app will return a range of word selections.
Depending on the word, Rhyme Time will provide options—words or phrases—broken down by syllable count. For example, with a word such as "verity," Rhyme Time returned nearly 40 words and phrases up to 11 syllables ("geometrical irregularity"). More helpful is the way the app formats results, with bold, standard, and light colored text denoting words based on their frequency of usage.
A latter day Keats might not find much use for this app, however. The app requires a Wi-Fi, 3G, or EDGE connection, so it won't be of much help when you're composing verse on your back in a strawberry field, or under a great oak where the only tweeting taking place is between the sparrows and the bluejays—or in a coffee shop with spotty Internet access, for that matter.
The app relies on Rhymezone.com for its material. And while the Website offers more options than you'll find in the app—you can look up words in quotations and Shakespeare's works, for starters—Rhyme Time has broadened the scope of its searches since arriving on the App Store. You can look up synonyms, antonyms, related words, and similar sounding words in addition to rhymes. The app also lets you find words in a definition and match letters. You can tap a word to summon a definition for those times when the meaning of a word is as important as how it fits your rhyme scheme.
When Rhyme Time works, it works brilliantly. But it cannot perform linguistic miracles. Nothing rhymes with "orange." Still, updates have lead to noticeable improvements with Rhyme Time. The app used to deliver a confounding message every so often that "the server has returned unexpected results." That error message appears to be no more in the 2.01 version of Rhyme Time, and that's good news. After all, there's no need to be coy. It just serves to annoy. Errors are no joy. So Rhyme Time is a largely useful tool to employ.
[Ben Boychuk is a columnist and freelance writer in Rialto, Calif.]