Audio vendor iHome is using this week's International Consumer Electronics Show to unveil new speaker systems and radio alarm clocks that feature support for the iPhone and iPad at their core.
iHome will show off three new speaker systems: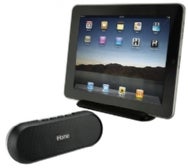 iDM12 Rechargeable Portable Bluetooth Speaker System for iPad/iPhone/iPod: This product lets users stream music wirelessly from their iPad, iPhone, iPod, or any other Bluetooth-enabled device to a pair of stereo speakers in a single sound bar. A detachable speaker cover doubles as an iPad stand, allowing users to carry the speakers from room to room.
iDM15 Rechargeable Portable Stereo Bluetooth Speakers with Speakerphone: These mini-speakers work with any Bluetooth-enabled device, as well as anything with a 3.5-mm headphone jack. An integrated microphone and "talk" and "end" buttons let you use the system as a speakerphone when paired with a compatible cell phone.
iDM70 Protective 'Sound Sleeve' Case and Stand for iPad with Built-in Rechargeable Stereo Speakers: A faux-leather iPad stand that includes a pair of flat NXT stereo speakers; the device can be charged when connected to a computer or other power source with the included USB cable.
Three other devices use the company's free iHome+Sleep app to place iPhones and iPods at the center of a clock-radio system: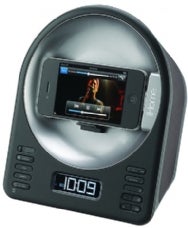 iA63 App-Enhanced Alarm Clock FM Radio Speaker System with Motorized Rotating Dock for iPhone and iPod: The motorized dock on this device lets users listen to music or watch videos on their devices in either portrait or landscape mode. The clock can be synced with a user's iPhone, and comes with a stereo FM radio, remote control, and options to adjust the snooze and alarm settings to allow a gradual entry into the day.
iA91 App-Enhanced Dual Alarm Stereo Clock Radio for iPhone and iPod with AM/FM Presets: A basic $99 alarm-clock-iPod-dock device that contains most of the features of the iA63—with the exception of the motorized rotating dock.
iA17 App-Enhanced Color Changing Alarm Clock FM Radio for iPhone and iPod: Reminiscent of a 1970s lava lamp combined with 21st century technology, this bowl-shape device cycles through a spectrum of 27 colors in time with music playing on a user's iPod. Users can choose between five different modes to cycle through the color.
CES starts on Thursday in Las Vegas; iHome will be showing off its new wares in Room 245 of the Las Vegas Convention Center North Hall. The company said all the new products would be on the market "later this year." Except for the iA91, no pricing information was immediately available.