They say it's healthy to take an occasional look at the world through someone else's eyes, which is probably why Layar, the augmented reality app, made quite the splash on iPhone in 2009. A major new version released on Monday tightens up the app's design and provides some clever new features.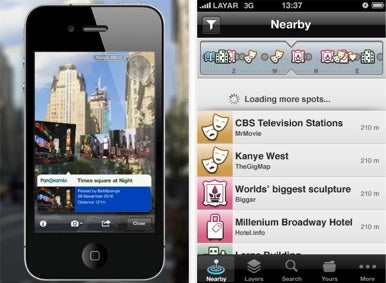 If you've used Layar and its reality-bending location features before, the first thing you'll probably notice is a redesigned interface in the Camera View. Information about the currently selected location is now displayed in a tighter, more polished interface. If you easily succumb to sea-sickness while traveling, the Camera View also takes advantage of the iPhone 4's gyroscope to stabilize the view.
Layar 4.0 now supports interactive features for its "layers," the many and varied collections of interesting locations that you can overlay onto a live camera view of your surroundings. (There were 161 layers when Layar 2.0 debuted on the iPhone. Now there are over 1,500). However, the company is not very forthcoming about what all of these new features entail, and it didn't respond to requests for comment in time for publishing this. Among them, however, appears to be a new arcade layer for playing augmented reality games on-the-go.
Layar 4.0 is available now for free in the App Store, and it requires either an iPhone 3GS or iPhone 4 running iOS 3.1 or later.