At a Glance
Expert's Rating
Our Verdict
Djay for iPad is one of the best iPad apps around. It allows you to use your iTunes music library to create amazingly professional-sounding audio recordings—just scratch out some tunes and throw together a playlist for parties—while facilitating smooth transitions between songs.
Compared with the Mac and iPhone versions of Djay, the iPad app has fewer features but is better suited to the tablet interface. In testing the app with dozens of songs—including new tunes by Duffy, Future of Forestry, and plenty of dance songs—the app lived up to its name: you really can be a DJ using a digital interface that features two matching turntables.
The basic idea is that you cue up one song on the left and another similar song (or the same song) on the right. You can then add in some scratches and cool blends. Because the iPad is so portable, and the screen is so well suited to scratching on virtual turntables, the program feels just right.
For example, in a Future of Forestry song, I queued up the same song on both sides and added bleeps and guitar snippets by simply pressing a set point on the right-hand turntable. You can also "play along" and add DJ accents to the song, such as a quick guitar part from the second turntable, and even record the new mix. When you connect the iPad to your Mac, you can then transfer these new tracks and then share them online.
The sound quality is outstanding and the final mixdown sounded like something a pro would make and sell.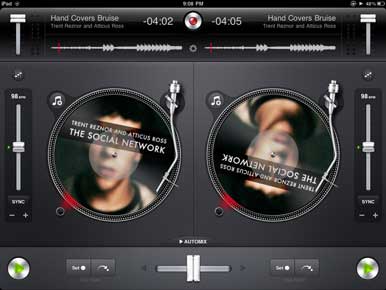 Djay for iPad supports iOS 4.2 so you can stream your new mixes—either live or recorded—directly to an Apple TV or AirPort Express. The Automix feature analyzes your playlists and automatically plays similar songs. The app creates a DJ-like transition between songs. However, the feature is not that different from just creating your own playlist.
Some of the more advanced controls in the Mac version (which costs $30 more) are missing from the iPad version. For example, Djay for iPad does not let you add effects to songs or include your own voice as another instrument in the mix. The Mac version also shows you a sidebar with the songs available so you can quickly add them. Also, with the iPad version, I found an odd delay when pressing a button to open a new track, something the vendor was unable to reproduce.
Macworld's buying advice
Djay for iPad's only major flaw is the price which, while consistent with certain iPad apps, is rather high for the casual user. As an entertainment app, it has too few advanced functions. However, for a pro who knows how to use turntables and may even get paid to produce a party dance mix, the app is well worth the price, especially compared to buying real turntables. And maybe no one will know the difference.
[John Brandon is a Minnesota-based freelance writer and tweets at twitter.com/jmbrandonbb.]