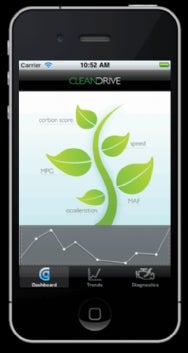 Toyota Prius owners have long bragged about the dashboard "energy monitor" that lets them track their car's performance in great detail. This week's International Consumer Electronics Show features new systems from two companies that will give iPhone users a similar ability to monitor their vehicle's performance—and location.
The hardware unveiled by Griffin Technology and Mavizon Technologies appears to be similar. Each offering features a small device that plugs into a car's on-board computer—most cars made after 1996 will be compatible—and transmits information to an app on the driver's iPhone. Griffin's device—dubbed CarTrip—transmits information via Bluetooth; Mavizon uses 3G.
Griffin's forthcoming CleanDrive app works with the CarTrip hardware and is oriented toward eco-conscious drivers. While the app will display a car's diagnostic information—letting users know what the "check engine" light really means—the app focuses on providing users with a "carbon score" based on a driver's fuel consumption, acceleration, and top speed.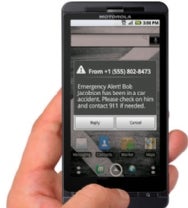 Mavizon's Mavia system is focused more on the nuts-and-bolts of daily commuting. In addition to providing maintenance advice based on a car's diagnostics—you won't forget when it's time to change the oil—Mavia also tracks a car's location, making it easy for users to find their way in a dark and crowded parking lot, or to track down their stolen vehicle. Other features include OnStar-style emergency notifications and social media check-ins.
Griffin is closer to putting its technology on the market. Its $90 CarTrip monitor and free CleanDrive app should be available in the first three months of 2011; an Android app will follow in the second quarter. Mavizon says its $300 system will be on the market at mid-year.