Documents to Go has been a staple on the iOS platform for more than a year now, first as an iPhone-only offering that later became a hybrid app once Apple's iPad arrived in 2010. The app comes in two flavors—a $10 standard version and the $16 Documents to Go Premium suite. It's this Premium version that I'll focus on here.
In case you're not familiar with Documents to Go, it's an ambitious "office suite" app which enables you to create and edit word processing, spreadsheet, and presentation documents in standard Microsoft (.doc, .docx, .ppt, .xls) formats. You can sync them with your computer via Wi-Fi by using a simple program, either for the Mac or Windows, that you can download for free from developer DataViz. You can sync using cloud-based storage services such as Dropbox, iDisk, and Google Docs. You can easily e-mail documents and also share them with a variety of other iPhone and iPad apps. (The standard version of Documents To Go only lets you view PowerPoint files, not edit and create them, and the cloud storage syncing capabilities are also limited to the Premium edition of the app.)
The suite, as a whole, works well enough. But longtime Mac developer DataViz—best known for its powerful file-transfer and translation programs—seems still to be chugging along in its early '90s "get the job done even if it's not pretty" mode. Documents to Go Premium gets things done, but it does so with a lack of elan that would be less bothersome if it wasn't also sometimes confounding.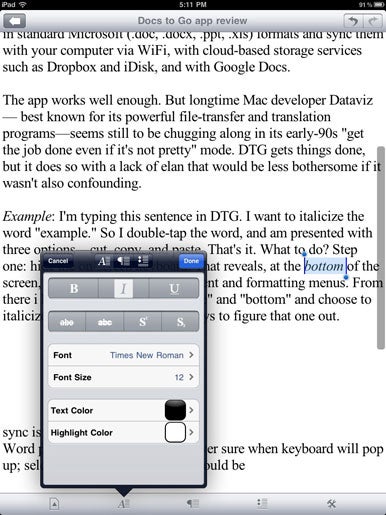 Example: I typed this sentence in Documents to Go Premium. I wanted to italicize the word "example." So I double-tapped the word, which presented me with three options—cut, copy, and paste. That's it. What to do? Step one: hide the on-screen keyboard. That revealed, at the bottom of the screen, a set of document management and formatting menus. From there I highlighted the words "example" and "bottom" and opted to italicize them. It took me several days to figure that one out. What are menus doing at the bottom, especially when there's so much screen real estate otherwise being unused in the title bar?
Another example: While saving this document, Documents To Go crashed. Upon relaunching the app, I was greeted with the error message "Cannot Unsuspend Document" Huh? What does this mean? I chose "yes" and the document opened fine, with no data lost. Another crash followed. I relaunched and got an identical error message. I picked "no" this time, just to see what the difference is. There doesn't appear to be one. So why the error message?
Despite all this, Documents to Go Premium on the iPad includes a solid word processor with many document, paragraph, and font formatting choices, and a good spreadsheet component. The presentation app is anemic, allowing you to create new presentations from a selection of three uncustomizable templates. You can perform only simple editing of PowerPoint presentations (and only in "outline" mode). There are no font formatting options. The app does allow you to view PowerPoint presentations in almost full-size, which can come in handy, and to add presentation notes easily.
Documents to Go Premium on the iPad is also buggy, popping up odd error messages when things go wrong, messages that say things like "will close the program," and then, behold, the app doesn't quit. You select a menu option such as "Open in … Pages" and nothing happens.
Bugs are always pesky, but aside from some poor interface choices, the biggest problem with Documents to Go Premium is that if you don't absolutely require a "suite," other apps can help you accomplish your work with more elegance and power. While only a few do so all in one package, it's not clear, on the iPhone or iPad, what the "suite" approach really offers most users. iOS 4.2's multitasking capabilities enable you to easily switch and share data between apps. When the apps are part of the same family, like Apple's own Pages, Numbers, and Keynote, they make for a strong suite alternative, to provide just one example.
That said, if you are looking for an office suite for the iPad, an app that requires only App Store download and enables you to create and edit Word, PowerPoint, and Excel documents, Quickoffice Connect Mobile Suite for iPad, which recently added PowerPoint capabilities that apparently exceed those of Documents to Go Premium, is comparably priced and worth a look.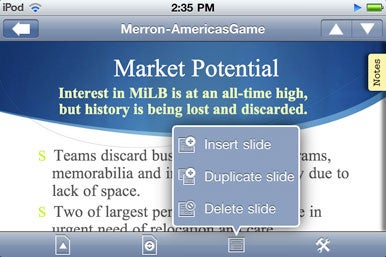 Documents to Go Premium is a universal app; one purchase allows you to install it on any iOS device. On the iPhone, the app seems stronger. With the high-definition Retina display on the iPhone 4 or fourth-generation iPod touch, viewing PowerPoint presentations is a pleasure, and the limitations of only being able to edit in outline mode and make presentation notes don't seem so … well, limiting. Having menus on the bottom also makes more sense on the iPhone, where more free-form interfaces have evolved because of the small screen space.
Editing any complex document, or even doing something as simple as selecting a spreadsheet cell, is often a challenge on the iPhone's small screen. However, Documents to Go Premium seems to make the best of the iPhone's limitations. DataViz seems to not yet really understand that the iPad is a different beast, and that a different interface isn't only possible but also, in many ways, preferable.
[Jeff Merron is a freelance writer and editor living in North Carolina.]