On Wednesday, Pure announced FlowSongs, a new cloud-based music service compatible with its Internet radios. The company also announced details of two additions to its line of Internet radios as well as a $99 iPod/iPhone AV dock.
FlowSongs allows owners of Pure Internet radios to tag and purchase tracks they hear playing on their radios. When listening to any FM or Internet radio station on a Pure radio with Flow technology, you push buttons to tag and, optionally, purchase any track you hear. Purchased tracks can then be streamed to the radio on demand, no computer required. If you choose to you can download your tracks to your computer as DRM-free MP3 files, which you can then burn to CD or copy to an iOS device or other MP3 player.
In order to use FlowSongs you must register one of Pure's Flow radios with the company's radio and media portal, The Lounge. Then sign up for a Lounge account using a credit or debit card. Tracks will cost between 99 cents and $1.49. Currently in beta in the U.K., FlowSongs will be available in the U.S. as a public beta in the spring of this year. When you sign up for a Lounge account you're given a free 90 day trial subscription that allows you to tag as many tracks as you like. When the trial period expires you must pay $5.99 per year to continue tagging tracks.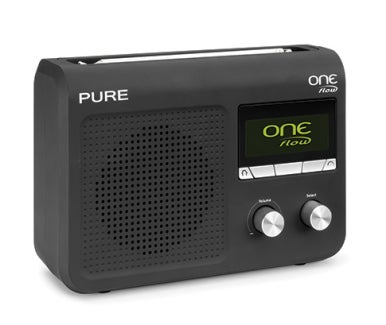 Pure also announced two new Internet radios—the $299 Contour (available March 2011) and $149 ONE Flow (available now). Like Pure's other Flow radios, these provide access to thousands of Internet radio stations, a large selection of on-demand audio such as podcasts, and a library of Pure's ambient sounds. The black crescent-shaped Contour includes a retractable iPod/iPhone dock and features backlit touch-sensitive controls and audio and video outputs (component, S-Video, and composite) for viewing the video content of a docked iOS device on an attached TV.
The more portable ONE Flow provides up to 20 hours of listening when attached to the optional ChargePAK E1 rechargeable battery. It includes kitchen and sleep timers, a 3.5mm input jack for attaching an external audio source such as an iPod, and two alarms.
Pure's $99 i-20 is a digital iPod/iPhone dock that includes component, S-Video, and composite video connections. Like Apple's docks, the i-20 charges an attached iOS device.