An iPhone or iPod touch can be an excellent organizational tool, be it a grocery list or inventory of items in your home. BookBuddy, a $5 app from Kimico, looks to bring that organizational moxie to your personal library. With BookBuddy installed on your iOS device, you can create a shelf-by-shelf catalog of your book collection.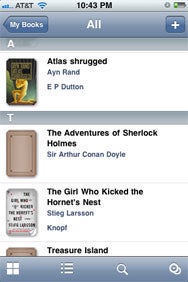 It's an appealing idea, and the app is certainly easy to use with plenty of promising features. Unfortunately, BookBuddy ultimately fails to justify its sizable-for-the-App-Store price tag
BookBuddy allows you to enter books manually or by using the integrated Google Books search capability. You can enter the author, title, and publication date for each book; if you've loaned out a book to someone, you can type in the name of that person as well.
The integrated Google Books search works well with specific information, but simple title searches make things confusing. For example, a search for Stephen Crane's Red Badge of Courage yields 11 different editions, including an audiobook version. The online search feature also includes an ISBN option which proved the fastest and most reliable input method during testing.
While other organizational apps allow for data input by using the iPhone's camera as a scanner, BookBuddy does not support such a capability. That would speed up the data entry process, particularly if you've got a large collection.
After you add books to BookBuddy, you can organize them by genre or collection (the defaults are "personal" and "professional") or even by lists of those you've read or would like to read. BookBuddy also includes wish list and share via e-mail features, but both are relatively bare bones offerings.
BookBuddy is a fine choice for casual users looking to track a handful of books, but bibliophiles interested in cataloging their entire libraries will likely be disappointed by what the app doesn't do. (You can gauge whether BookBuddy will meet your needs by trying out a free version of the app, which limits you to storing 10 books.) In its current iteration, BookBuddy is promising, but it still feels like an incomplete work in progress.
[Macworld contributor Brendan Wilhide covers the sports industry and social media on Sportsin140.com.]