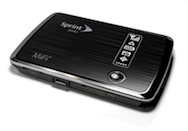 Sprint has added the Novatel Wireless MiFi 3G/4G to its roster of upcoming devices, replacing its earlier 3G-only Novatel device. It sells alongside the similar Overdrive MiFi from Sierra Wireless: Both offer mobile hotspot connectivity for up to five devices over Wi-Fi, using Sprint's WiMax 4G network in the cities where it is available, and reverting to 3G (EV-DO Rev. A) elsewhere.
The Novatel improves on the older Sierra's feature set with its smaller size (3 ounces versus 4.5) and an estimated extra hour of battery life (for a total of four hours). The Novatel also sports an eInk status display instead of Sierra's LCD. Other specifications are similar: GPS support through the Sprint network, a MicroSD slot to share files between connected users, and support for any device that can speak Wi-Fi, including iPods and iPads owned by people allergic to AT&T iPhone contracts.
The Novatel MiFi is priced at $99 with a two-year contract, which costs $60 a month for 4G (unlimited) plus 3G (five gigabytes per month) service. Sprint will offer a $50 mail-in rebate when the Novatel ships on February 27.