The makers of Neer promise that you'll never wonder where a loved one is again. Formerly available only as an Android offering, the app from Qualcomm Services Lab has arrived on Apple's App Store for use with the iPhone 4 and fourth-generation iPod touch. A location tracker application, Neer lets you program your iPhone to notify members of your inner circle, be it family members, friends or co-workers, when you leave or enter certain locations.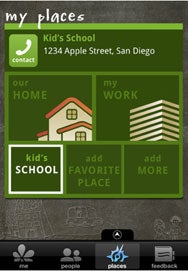 The concept will sound familiar to anyone who's used Foursquare, Gowalla or any of the other location-based apps that dot the App Store. With those apps, you're checking in to restaurants, events, and other places to broadcast your whereabouts to the whole wide world. With Neer, you're only letting a select few know where you are and what you're doing.
Neer uses the iPhone's GPS and Wi-Fi signals to record a user's location. Say you want to know whether your child gets home from school safely. You can install the app on your child's iOS device and program it to send an automatic notification (via text or e-mail) whenever your kid enters your house. If you get stuck in a long business meeting, and you can't text your spouse that you'll be late getting home, your significant other can check his/her own Neer app to learn of your location.
Because the notifications are automatic, Qualcomm Services Lab says, users don't have to drop what they're doing to operate Neer—ideal for those times when you're driving and shouldn't take your eyes off the road to let others know where you are.
Neer allows you to only share location information with who you want. You can program the app to only notify followers when you reach certain destinations—that way, you won't inadvertently ruin the surprise if you stop at a store on the way home to buy your significant other a gift. You can even specify the time of day that your followers can know where you are.
Neer taps into to your phone's GPS features which can be a drain on battery life. Qualcomm, however, claims that it has designed the app with power efficiency in mind—the developer's goal is to give users one full day of battery life when they run Neer. And Qualcomm says it's working to improve the app's effect on battery life in future versions.
Neer is a free download that runs on iOS 4.1 or later.