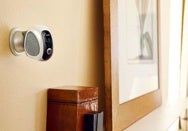 It was almost a year ago that Avaak launched its Vue personal video network, a series of small streaming video cameras designed to be mounted around your house or business. Now the company is back with a pre-CES announcement of the second generation of its wireless cameras, Web service, and iPhone app.
Avaak added two key features to its new camera lineup: motion-activation and outdoor weatherproofing. The new Vue CM camera can sense motion up to 20 feet away, then send your iOS device a push alert and e-mail you with a still image or short video clip. The Vue CO camera also has motion detection, but is ruggedized to withstand rain, wind, and snow, making it a better fit for outdoor monitoring.
Avaak also overhauled its my.VueZone.com service, where you can monitor your cameras, share video clips, and invite friends to view your cameras for the ultimate social media voyeurism experience. It should now be much easier to manage your cameras, set recording schedules, and enable alerts, and you can pan and zoom or take advantage of a new high-resolution 2MP viewing mode on the new cameras. You can also now sort your recording library by name, date, and camera.
Finally, VueZone Mobile 2.0, which should be available soon in the App Store (as well as for BlackBerry and Android), will let you toggle real-time alerts from cameras with motion detection. The new version lets you view and share trigger-recorded videos, as well as your friends' cameras that you've been invited to.
The Vue CI camera sells for $99. The new Vue CM motion-detecting camera is $129 and should begin shipping in February, and the Vue CO outdoor camera is $159 and listed as "coming soon."