Chiaro Software has released FireRocker, a new radio app for Mac that can record and edit audio, create radio lists, and more.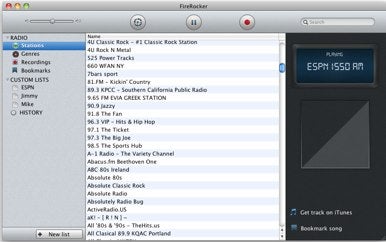 FireRocker comes with more than 390 radio stations, with more to be added soon, and you can add your own stations by providing the station's name and URL. You can also browse stations by genre and create custom lists with your favorite ones.
FireRocker also lets you record audio—a feature sure to displease the RIAA. Once you've recorded something, you can play it back or edit it using a basic audio editor, like Garage Band.
The app also supports keyboard shortcuts, a welcome feature for those who hate switching back to their radio app every time they want to change the channel. You can also place an icon that gives you access to FireRocker's main features in your Mac's menu bar.
If you like a track, FireRocker can take you directly to the album page on the iTunes Store with the click of a button, and it also keeps a list of previously played tracks for future reference.
FireRocker for OS X requires Mac OS X 10.6 or later and costs $14. Versions for iPad (running iOS 4.2.1 or higher) and iPhone (also running iOS 4.2.1 or higher) are available for $2 and $1, respectively.