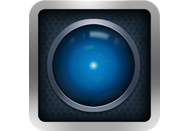 Apple's new AirPlay technology now works with the original Apple TV, thanks to FireCore's aTV Flash add-on and the latest version of its $4 app called Remote HD.
When Apple first unveiled AirPlay—its technology (née AirTunes) for streaming music and video from computers and iOS devices to other devices—it worked with many devices, including the new, pocket-sized version of the Apple TV, but not the original hobby.
Remote HD aims to help you get more use out the bigger, whiter Apple TV by enabling you to stream videos and photos from iOS devices and videos from iTunes. The first step is a big one, though: you'll need to modify your Apple TV with aTV Flash, which is actually easier than it sounds, though the add-on itself costs $40. If you're not already an aTV Flash user, you buy the software from FireCore and install it with a flash drive via the Apple TV's USB port.
Once you're running aTV Flash on your Apple TV, you can buy Remote HD from the App Store, install the Apple TV Remote HD add-on through from the Maintenance -> Install Extras menu, restart, and suddenly feel less envious of the Apple TV's younger, sleeker brother.
FireCore says that the $4 price won't last long. Remote HD requires iOS 3.1 or later and works with iPhones and iPads alike.