Apple might not be present at the International Consumer Electronics Show this week, but it's casting a long shadow. Its not just the long line of competitors debuting tablets to chase the triumph of the iPad—there's also a host of companies using the iPhone, iPad and other Apple products to provide new ways to listen to music, play games, and keep your family safe.
An overview of some of the Apple-centric products on view this week at CES:
Music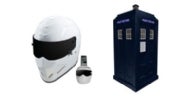 Speakal is unveiling a line of iPhone and iPod touch speaker systems that surround the Apple devices with funky styling that the company is known for. But pop-culture nerds might be most intrigued by a pair of new devices tied into TV shows from across the pond—a speaker designed to look like the Stig's helmet from the BBC's Top Gear television show, and another system that resembles the iconic T.A.R.D.I.S. of Doctor Who fame. No word on if a Dalek tie-in can be expected soon, nor when the announced products will be available to the public.
TEAC doesn't have any sci-fi offerings on hand, but its two new products—the SR-100i and the SR-80i—are sleek half-oval speaker systems that let users dock their iPhones and iPods. The SR-100i even goes old school, featuring a CD player just in case users haven't digitized all their music.
If you want your music and your speakers in different rooms, though, Altec Lansing has a solution: its new inMotion Air sound system lets users sync their iTunes library via Bluetooth from an iOS device within 300 feet of the speakers. A rechargeable battery allows up to seven hours of playing time.
Entertainment and Gaming
Griffin Technology is doing its best to entice your children into stealing your iPad. It has unveiled Crayola ColorStudio HD, a free app that will let young artists use the tablet as a coloring book. But there's a catch: Griffin is trying to get parents to spend $30 on an "iMarker" stylus to help young users keep their coloring within the lines.
If you'd rather sit back and watch TV, though, Griffin's got you covered too. The company is partnering with Dijit to turn iOS devices into universal remotes. Users can plug the $80 Beacon infrared device into their A/V system, download the free UMEE remote control app, and voilà—the iPhone becomes a remote for your entertainment gadgets, all through the magic of Bluetooth.
Gamers are covered by Ten One Design, which is launching its new Fling game-control system for the iPad at CES. If the iPad's multitouch screen seems too nebulous for gamers who grew up with wired controllers, the Fling offers an answer in the form of a small thumb-sized joystick that slips onto the corner of an iPad, where onscreen games control are often located. Fling two-packs can be pre-ordered for $38.
Safety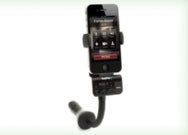 Griffin doesn't just want you at home: It also wants to hang out in your car—and keep you safe there. The company is unveiling its DriveSafe line of products designed to let drivers use their iPhones without driving off the road. The RoadTrip HandsFree anchors the iPhone on a flexible steel neck plugged into the car's battery adapter, so that drivers can play music or take calls without fumbling. BlueTrip DualConnect plugs a Bluetooth transmitter into the power port, letting drivers play iPod music on their car's FM radio.
Withings, though, is using the iPhone to keep you and your loved ones safe and healthy closer to home. The company is offering a new blood pressure monitor that transmits vital statistics to your iPhone or iPad. Another product—a baby monitor that can transmit audio, video, and other diagnostic information to your phone anywhere in the world— is also expected this week.
Utilities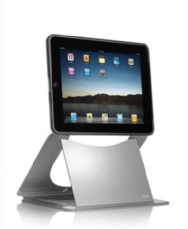 All those games and safety efforts are useless, though, if you can't keep your iOS device powered-up and intact. Luckily, there are lots of solutions on that front at CES.
XtremeMac, for example, is adding four new products to its InCharge lineup of devices that power iPhones and iPads: InCharge Mobile, a rechargeable battery pack for the iPhone 4, leads the way. It is joined by an array of devices that let users simulatenously charge iPhones and iPads, or play music wirelessly through a car stereo while charging an iOS device.
Mili Power is joining the charge with its three-in-one MiFlip, a new device that acts as a charging station, a backup battery, and a viewing stand for the iPhone.
And if you want to see your iPad a little better, Joby has you covered. It's introducing the GorillaMobile Ori and GorillaMobile Yogi this week, a pair of stands the company says combine ergonomic design with origami principals in the former device, and a bendable infrastructure to stabilize your tablet on uneven surfaces in the latter.