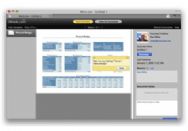 We don't hear from Apple very often when it comes to iWork for Mac and iWork.com updates. But on Wednesday the company delivered iWork Update 5, which adds a number of new features and fixes to both the iWork '09 suite for Mac and iWork.com. It also released Keynote Remote 1.2 for the iPhone and iPod touch.
Technically known as iWork 9.0.5, the 67.06MB update brings the public sharing and private upload options for iWork.com to each of the suite's three apps: Numbers, Pages, and Keynote. Apple dabbled with public sharing options on the iWork.com site in March, but this update incorporates them into the iWork apps's sharing dialogs.
Also new in iWork Update 5 is the ability for uploaded Keynote presentations to be played at iWork.com or embedded in other Websites. As long as you're using the latest version of Safari, over 15 of Keynote's animations and effects are supported, including Magic Move, Cube, Drop, Flip, Scale, Pivot, and more. If you use a different animation in Keynote, those animations at iWork.com will appear as a Dissolve in Safari, or as Appear/Disappear in other browsers or older versions of Safari.
Apple said it also improved the user experience of iWork.com on its iOS devices, but that's as specific as the company gets. And if you've been exporting documents from Pages in the ePub format, introduced in the iWork 9.0.4 update, their readability should be improved with today's update. If you're a Numbers fanatic, though, it sounds like you can largely sit this update out.
As for Keynote Remote 1.2, Apple finally added support for the iPhone 4's retina display and iOS 4 multitasking, as well as improvements to handling connections, Push Notifications, and SMSes while in the middle of a presentation.
iWork Update 5 is available in Software Update or from Apple's support downloads site, while Keynote Remote 1.2 is in the App Store for devices running iOS 4.2.1 or later.