Samsung has launched the SMX-F50 camcorder series at this year's International Consumer Electronics Show (CES) in Las Vegas. The new series consists of three models: the SMX-F50, F53, and F54, for $199, $249, and $299 repsectively. These units capture 720 x 480 video at 60i, feature up to 65X zoom, and incorporate a host of new automatic features.
The SMX-F50 series, with a compact and lightweight design measuring approximately 2 x 2 x 4 inches, comes in black, silver, red, and blue.
New automated functions—Smart Background Music, Smart Auto, and Record Pause—promise to make video shooting easier for consumers recording family events. The Smart Background Music feature lets you choose a musical background for your video and automatically lowers the volume when speech is detected in the film so that everyone's voice is audible.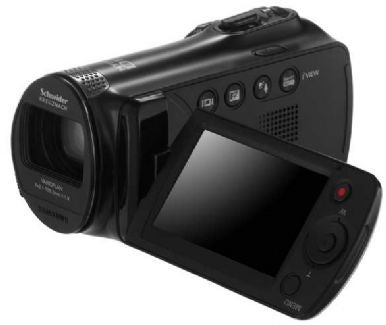 Record Pause technology allows users to pause while recording and then resume filming from that point, eliminating the need to merge files for editing when the recording is finished.
The Smart Auto feature selects the correct shooting mode according to lighting conditions and subject.
The SMX-50 series, with its 1/6-inch CCD sensor and 2.7-inch LCD, accepts SD and SDHC cards. The F50 has no on-board memory, but the F53 and F54 have 8GB and 16GB of flash memory respectively. Samsung reports continuous recording time of 6 hours 20 minutes (with 16GB of memory or a card). The camcorders also capture 1.9 megapixel still photos. The camcorders feature a USB port for charging on-the-go or connecting to a computer.
The SMX-F50 series will be available in February 2011.