On Thursday Apple opened the Mac App Store, releasing a software update for Snow Leopard that allows Mac users to buy software using the same mechanisms they use to buy iOS apps and media via iTunes.
To enable the Mac App Store, Snow Leopard users will need to update to Mac OS X 10.6.6, either by using the Mac's built-in Software Update or via a download from Apple's Website. The update began to roll out to users beginning at 5:30 a.m. Pacific.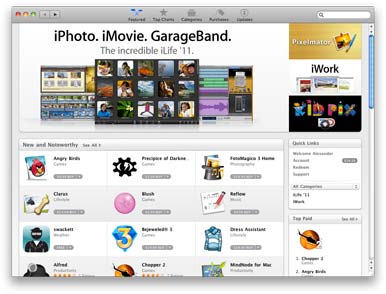 "The [iOS] App Store really revolutionized the way you acquired apps on a mobile platform… we think there's a really great opportunity to do the exact same thing on the Mac," Eddy Cue, Apple Vice President of Internet Services, told Macworld.
Announced by Apple in October, the Mac App Store lets Mac users discover and purchase apps, though some familiar Mac software won't be available due to the store's exacting requirements. According to Apple, more than a thousand apps will be available initially, including many of Apple's own iWork and iLife apps, as well as apps from vendors such as AutoDesk, Evernote, Omni Group, Pixelmator, and many others.
Once Mac OS X 10.6.6 is installed, users will find a new App Store app in the Dock, right next to the Finder. This new app, rather than iTunes, is the conduit to the store. But while the Mac App Store isn't within iTunes like its iOS counterpart, it sports an interface that will otherwise be quite familiar to any iOS user.
The Mac App Store streamlines the process of purchasing Mac software: you buy the software with one click while using an iTunes ID and password. Apps are downloaded and installed automatically, including automatic placement in the Dock. And shopping for apps also has an iTunes flair, including charts for the top free, paid, and top-grossing apps as well as browsing by category.
Among the apps being sold in the Mac App Store as of Thursday are seven made by Apple, including members of the iLife and iWork bundles as well as Aperture 3. These apps will all be sold individually for prices ranging from $15 (for iLife apps) and $20 (for iWork apps) to $79 (for Aperture).
Some major Mac software vendors, notably Microsoft and Adobe, aren't present in the Mac App Store on day one. It's unclear whether Apple will work with those developers to bring their more complex installation and licensing procedures into the Mac App Store, or if it will be incumbent on those companies to modify their approaches in order to fit the Mac App Store's guidelines.
Positive reaction
The technology-industry analysts Macworld spoke with seem to feel that Apple is making a savvy move in bringing the success of the iOS App store to the Mac, suggesting that it's a strategy that opens open another difference between the Mac and PCs running Windows.
"It's groundbreaking," said Tim Bajarin of Creative Strategies. "I think this will be more than just an experiment—I think it'll be quite successful within the Apple community. Those who are familiar with the Mac way of doing things will easily accept this, and probably embrace it."
"The computing universe has evolved in a huge way from the days when, if you wanted software for your computer, you went to Egghead and bought a shinkwrapped box and took it home," said Gartner Group analyst Michael Gartenberg. "Even the largest Apple Store only sells a fraction of the software that's out there—there's a much larger universe out there that most consumers don't know about. Apple discovered that when you create a central place for developers and consumers to come… magical things happen and billions of downloads occur. Applying that to the Mac makes so much sense."
"It's the beginning of the death of packaged software," said Avi Greengart, research director for consumer devices at Current Analysis. "But it also shows the strength of the Mac platform. I think we're going to see developers embrace this."
Gartenberg said that the flexibility of developers being able to sell apps both in the Mac App Store and on their own Websites—including to use their own sites to beta-test new versions—was a useful approach. "You almost say, gee, why not apply that that to the iOS as well? But for now iOS is staying iOS," he said. And conversely, Gartenberg said, the idea of being able to install anything you want on your computer is too strong for Apple to diverge from it.
"This is a way of pointing out that the Mac is ahead of the other platform, and how Apple is making the personal computer experience much more appliance-like," Gartenberg said. "I'd be very surprised if we didn't see someone attempt to do this on Windows, but it would be much harder to [pull that off]."
Yankee Group analyst Carl Howe said that the advent of the Mac App Store spells the end for giant, monolithic software packages.
"This is the atomization of the software market," Howe said. "The Mac App Store means that instead of buying Photoshop for $800, we'll see a lot more consumers buying an app for cropping photos and maybe two different ones for retouching, each of which will cost about $10. The consumer saves money and the developers can be more focused on things that consumers want instead of kitchen-sink app suites. The winners are independent app developers who have never had the kind of distribution an Adobe had, but now get world-class distribution of their app. Apple also wins, because it starts collecting a 30 percent cut of all software sales. Losers are the traditional software vendors who will be too high-priced for downloadable apps."
NPD analyst Ross Rubin agreed that the Mac App Store is great news for Mac developers. "Particularly for smaller developers, or developers looking for more flexibility, this is a big opportunity," Rubin said.
Joel Mathis contributed reporting for this story.