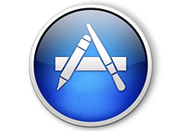 Apple's much anticipated Mac App Store made its debut on Thursday, bringing the promise of easy access to new software for customers, and exposure to a large customer base for software developers.
So does the Mac App Store deliver? You can fire up the Mac App Store and see for yourself. But if you're the type who likes to read travel guides before going on vacation, read on. I spent Thursday morning wandering up and down the Mac App Store's virtual aisles, and I've come away with a few first impressions of the experience.
Mac App Store installation
You must run Snow Leopard to access the Mac App Store, because access is granted through a system update—Mac OS X 10.6.6 to be exact. I was able to download and install the update on a 2.33GHz Core 2 Duo 15-inch MacBook Pro by using Software Update. The installation required a restart and took a little more than 10 minutes for me.
The Mac App Store is not a part of iTunes as the iOS version of the App Store is. Instead, the 10.6.6 update installs the App Store program (a 7.4MB file) in the Applications folder, and a store icon appears in the Dock; a new App Store selection is also available under the Apple menu. In my opinion, making the Mac App Store separate from iTunes is the right decision, because it separates Mac OS X software from iOS apps; it also prevents iTunes from being even more cluttered and bloated than it already is.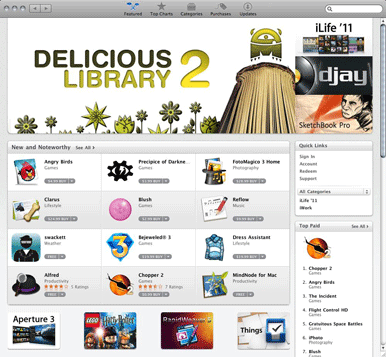 When you first launch the Mac App Store, the application asks for the iTunes ID you use for iTunes Store purchases and asks for your password. (You can also create new accounts.) My iTunes account had a $9.14 credit, which the Mac App Store recognized. The rest of your account information looks exactly like the information listing in your iTunes account.
Looks like iTunes
Navigating the Mac App Store will be familiar to iTunes Store shoppers, because it's designed much like the iTunes Store. One exception: there's no sidebar where iTunes lists your media library, playlists, and so on.
Across the top of the Mac App Store window are Back and Forward buttons on the left, and middle buttons for Features, Top Charts, Categories, Purchases, and Updates. The top marquee spot features a rotation of various apps; to the right of that are three smaller marquee spots. Quick Links for your account, redeeming gift cards, and support are under the three small marquee spots.
Installed…or not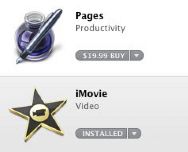 Like the iTunes Store, if an app is installed on your Mac, it should be listed as Installed. I say "should be," because in my case, the Mac App Store didn't recognize my installation of Pages '09 (or the rest of iWork '09). I'm not sure if this is because of the version I have installed or a registration problem, and I'll update this article once I do more research. The Mac App Store did recognize iMovie, iPhoto, and GarageBand as installed on my Mac.
I had a similar problem with Evernote. I was using the free version of Evernote 2.0 (116546), which was listed as an up-to-date app, and the Mac App Store did not recognize Evernote as installed. When I clicked to buy Evernote from the Mac App Store, the Store recognized that Evernote was open and told me to quit the app. Once I let the Mac App Store do its thing, Evernote 2.0.1 (118429) was installed on my Mac and listed as installed on the Store. (All my Evernote data was preserved).
Make a purchase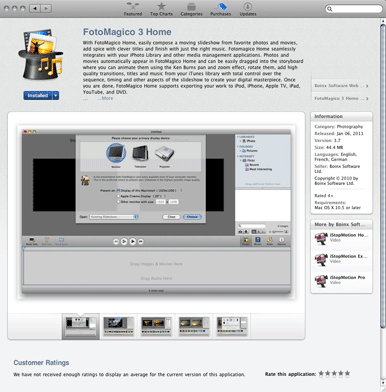 App product pages are much like the ones you'd find in the iTunes Store. Product pages feature a description; an Information box with version number, file size, requirements, and so forth.; links to the developer's Website; screenshots; and customer ratings.
When I "bought" Twitter 2.0 (the Twitter client is free), the Mac App Store listed it as Installing, and an animation showed the app's icon floating from the Store to my Dock—unfortunately, there is no way to tell the Store not to automatically add apps to the Dock.
Another vitally important feature currently missing is that the Mac App Store doesn't ask for confirmation when you buy an app. When you make a purchase right after launching the Store, you're asked to enter your account password, so that sort of acts as a confirmation; canceling the password entry cancels the transaction. But if you enter your password and complete that purchase, subsequent purchases are completed once you click the Buy button. So keep the Mac App Store away from click-happy hands.
After the installation finishes, the Store will list your newly purchased app as installed. In the case of my Twitter 2.0 download, the app was installed in my Applications folder—there was no way to tell the Mac App Store to install in a different location. I moved several purchased apps from the Applications folder to a different folder, and they all continued to work.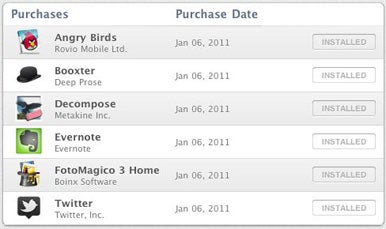 When you click on the Purchases button at the top of the Mac App Store window, you see a list of the apps you've bought through the store. However, this list is basic, showing only the app, the date for purchase, and its installation status. To get more details about your purchase, you have to go into the iTunes Store. When you click on Purchase History in your iTunes account, you can see a detailed description of your Mac App Store purchase, which include the amount you paid, the order ID, the date and time, and the item details.
One major missing feature is the ability to try software before you buy. For example, Boinx offers a five-day free trial period for FotoMagico 3 Home if you download it from the company's Website. But there's no free trial version of FotoMagico 3 Home on the Mac App Store—you have to pay $30. Also, few product pages include information on demo or trial versions that may be available on the developer's Website. I checked more than 30 paid apps that were at least $10, and found three mentions of demo or trial software. Users need to be savvy enough to venture out of the Mac App Store and go to a developer's Website to get demo software.
The Updates section is where you'll find updates to your installed Mac apps. However, it seems as though that section only recognizes apps you've bought through the Mac App Store. For example, I am using an old version of BBEdit (version 8.7.2). The latest version is 9.6.2, which is available in the Mac App Store, but it doesn't appear in my Updates section. The Store also doesn't denote BBEdit as installed on my Mac.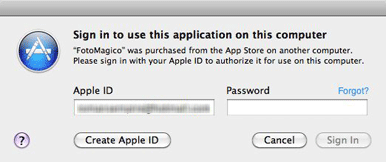 I took four of the apps I bought (one free, the rest paid and less than $50 each) and copied them to an iMac in Macworld Lab that had a different Mac App Store account to see if the apps would still run. The free app and one of the paid apps ran without a problem. The other two paid apps required the Mac App Store account that bought the app to log into the Store in order to run. A login window appears, showing the name of the account that bought the app. When I logged in with a different account, the sign in box disappeared and the app did not launch. It would be nice if there was a message that told you that you can't use the app on that computer.
Work in progress
The Mac App Store feels very much like a version 1.0 product—some might even say it feels like a beta. There are interface issues and some mixed results with the Store's ability to recognize the version of software you currently have installed, so you need to proceed with a careful eye to avoid purchasing an app you already have.
Overall, the Mac App Store experience is much like the iTunes Store; it's easy to navigate, find software, buy and install new apps—and that's a good thing. Hopefully, the issues I encountered will be ironed out sooner rather than later.
We'll be posting a Mac App Store FAQ as soon as possible to answer some of your most common questions. Stay tuned.
[Roman Loyola is a Macworld senior editor.]
Note: When you purchase something after clicking links in our articles, we may earn a small commission. Read our affiliate link policy for more details.