The Digital Experience press event at the International Consumer Electronics Show sports its share of multi-colored martinis and oddly-dressed women handing out t-shirts and Mardi Gras-type beads (not to mention a slew of iPhone-battery-extending cases, which appears to be the big trend in accessories this year). But we also spotted some cool things that should interest iPod and iPhone users at Wednesday night's event.
Audio gear
Among the myriad headphones and docking speaker systems on display—many of which were minor variations of innumerable existing products—a few stood out. The most noteworthy was likely a major update to B&W's $600 Zeppelin speaker dock, named Zeppelin Air. In addition to increasing the system's power and upgrading its electronics, the company has added AirPlay support, via both wireless and wired networking, allowing you to stream audio from any iOS device or from iTunes 10 on a Mac or Windows PC. The Zeppelin Air will be available in March.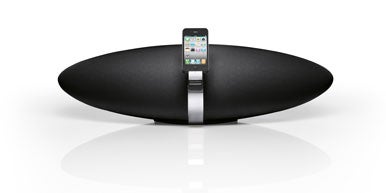 The other interesting speaker systems came from TDK, which is similarly targeting the higher end of the market with the 3 Speaker Boombox Audio System and 2 Speaker Boombox Audio System. Each provides dual 6-inch drivers, AC or battery operation, touch-sensitive buttons, and multiple inputs—USB, 3.5mm, 1.8mm, and RCA—for connecting a wide range of audio sources. The analog sources are mixed, letting you, for example, play your guitar along with music from your computer. The 3 Speaker system adds a subwoofer. TDK didn't say when its products would be available.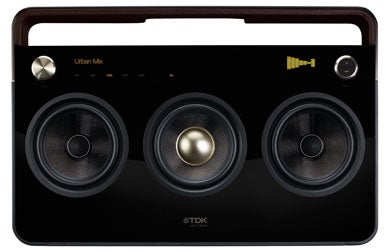 Sennheiser added to its wide range of headphones with two unique noise-canceling offerings. The MM 550 is a full-size set of headphones with soft, comfortable earpads and noise-canceling circuitry. However, unlike most noise-canceling headphones, the MM 550 connects via Bluetooth and provides full headset functionality. The CXC 700 uses a canalbud design with an inline battery/noise-canceling module. What's unique about the CXC 700 is that it offers three different noise-canceling "profiles," each designed to cancel a particular range of audio. For example, one mode is designed for airline use, with another for noisy crowds.
iPhone and iPod touch accessories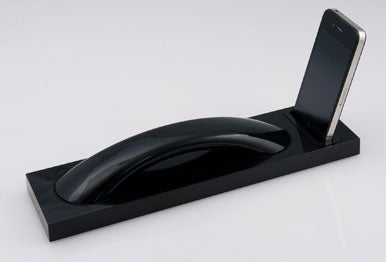 The show floor was, of course, flooded with iPhone, iPad, and iPod cases. But there were a few standout add-ons. One of our favorites was Native Union's MM03i Bluetooth Handset. Available in black or white, this sleek phone handset pairs with your iPhone for home/office use, giving you the feel of a traditional phone handset when at your desk. Just like with a standard phone, picking the handset off its base answers a call, and placing it back in the base ends the call. The phone base also features a dock cradle for charging your phone.
Gamers whose hardware of choice is the fourth-generation iPod touch will want to keep an eye out for Mophie's Pulse. This "case" hosts an iPod touch, providing a more ergonomic gaming grip, stereo speakers, and haptic feedback—the technical term for "shaking and vibration in response to onscreen stuff." The Pulse is currently at the prototype stage, but the company expects to ship—at a price somewhere between $80 and $100—early this year.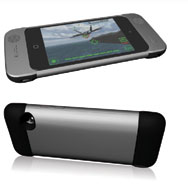 Finally, we've seen plenty of quality full-body protective films for your iPhones and iPads, most notably NLU's BodyGuardz and Zagg's InvisibleShield, but Wrapsol has taken a unique approach. Instead of making the film as thin as possible, Wrapsol's films are thicker and a tiny bit spongy in order to offer a modicum of shock protection—an area in which films generally fall far short of traditional cases. Wrapsol also offers matte/anti-glare versions that, from what we saw, actually worked without being magnets for smudges and fingerprints.
App-enhanced gear
iHealth Lab showed off its new iHealth Blood Pressure Monitoring System for the iPhone, iPod touch, and iPad. The system includes a hardware dock, a blood pressure arm cuff, and the iHealth BPM app to let people measure their blood pressure and heart rate with their iOS devices. The $100 package lets you track stats over time and even e-mail them off to your doctor.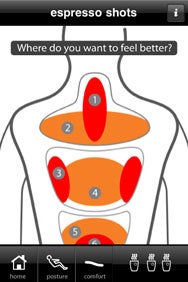 We both got a chance to take a load off and kick back for a few minutes in the Human Touch AcuTouch 9500, a $6000 massage chair with an iOS app called HT-Connect that lets you control the chair's settings over Bluetooth. An "Espresso Shot" feature makes it easy to get relief exactly where you need it, and you can can tap on trouble spots in the app to enjoy up to three targeted five-minute massages. As massage chairs go, the 9500 was pretty luxurious, and the company hopes to bring the functionality to some of its lower-priced chairs in the future—but for now, you'll need a second mortgage to enjoy the benefits of this app.
TiVo had hoped to show off the company's upcoming iPad app, but network problems in the room prevented it. Company representatives told us the new app would let you control your TiVo—or TiVos, if you own multiple DVRs—over your home network. But unlike other TiVo-remote apps already on the market, the new iPad app is designed to enhance your viewing experience by displaying channel guides as well as additional information about the show you're currently watching. It will even offer gesture support—for example, you'll be able to switch to a show by flicking its thumbnail from a timeline at the bottom of the screen up to the top of the screen. The app will be a free download from the App Store and should be available within the next month.