The sixth-generation iPod nano's staggeringly small size and color display opens up new possibilities as to how it can be worn. While the iPod and iPod touch are generally limited to pockets, purses, and the occasional arm band, the nnano is small and light enough to be worn as a necklace, belt buckle, or even as a watch.
It's that latter category that case manufacturers have really jumped on—there are now quite a few wristband cases for the nano that turn the minute MP3 player into the ultimate multipurpose wrist watch. Here's a rundown of what's available so far.
EagleC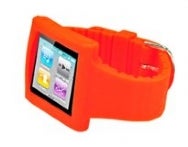 If you're not looking to spend a lot—and let's face it, who is these days?—the EagleC Silicone Watch Wristband Case ($4) might be all you need to get your tunes on your wrist. Designed to look like what EagleC calls a "stylish, high tech watch," this bare bones silicone strap provides basic scratch and shock protection, while its simple pop-in pop-out design makes it easy to insert and remove your nno.
Elecom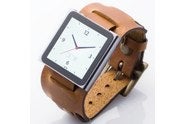 While most nano wristbands in this roundup are made of rubber or plastic, Elecom's AVA-N10LB ($42) boasts a genuine leather strap. This classy wristband includes a riveted strap that holds your nano in place, and is available in black or brown.
Hex
The Hex Watch Band ($30) features a custom premium silicone strap, a pop-in pop-out design, integrated control buttons and an audio port cover with inline orientation. If that's not enough for you, it also comes in a wide assortment of classy colors that should accommodate most tastes.
iLoveHandles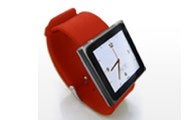 The Rubber Band ($10) by iLoveHandles is an affordable, bare bones rubber strap for your wrist that has an indented midsection to clip on your nano. The wristband comes in a variety of bright, vivid colors and should be able to fit just about any wrist.
Ozaki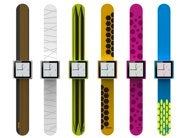 Remember the slap-on bracelets of the nineties? Ozaki's iCoat Watch+ puts a 21st century twist on that classic accessory, turning it into a stylish wristband for your nano. Along with its retro, slap-happy design, the iCoat Watch+ features a water-resistant cover that keeps your nano's connector and socket dry. It also comes in various eye-catching color schemes that match the bracelet's '90s appeal. Unfortunately, pricing and availability has not been announced.
Scott Wilson and Minimal
Scott Wilson and Minimal's TikTok and LunaTick wrist straps are in a league of their own. The TikTok ($35) features high-grade silicone rubber straps and uses a simple, snap-in design that lets you easily and securely snap your nano into its wrist dock.
The LunaTick ($70) is forged from AeroSpace Grade aluminum and uses a lock-in design making it ideal for those wishing to permanently convert their nano into a timepiece. Both models are available for pre-order and are expected to ship in January.
Speck
What time is it? Time to rock! Speck's TimeToRock wrist band ($25) lets you wear your music on your wrist in a number of rich colors. The soft, flexible strap features a simple pop-in, pop-out design that keeps your nano securely in place, while soft button covers provide shock and scratch protection for your device.
SwitchEasy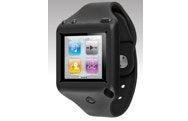 SwitchEasy's Ticker features a stainless steel strap pin, polycarbonate push through buttons and a specially developed elastometer base material that's more versatile and shock resistant than standard silicone or rubber. It also features a rotatable headphone jack that allows it to work with both lefties and righties, and is available in a number of vibrant colors.