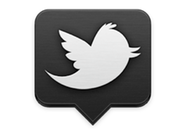 Tweetie for Mac was the lonely, neglected app in the Loren Brichter-created Twitter app triumvirate. Tweetie on the iPhone became Tweetie 2, and then morphed into the official Twitter app. And it's excellent. Twitter on the iPad received some sharp criticisms when it arrived, but it too has evolved into greatness.
And yet there sat the original version of Tweetie for Mac, with its iPhone-inspired interface and its lack of native retweets, aging unfavorably in light of numerous younger Twitter client upstarts.
That all changed on Thursday with the latest step in Tweetie for Mac's life, which emerged from its cocoon as Twitter for Mac, available for free via the Mac App Store.
When I launched Twitter for Mac for the first time, I knew instantly what the knee-jerk complaints would be. It doesn't look quite like a Mac app. It looks more than a bit like an iOS app that's missing the iOS device itself.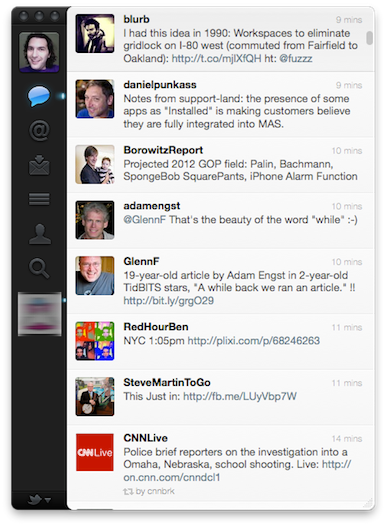 Standing there by itself, it looks okay. But on a Mac desktop littered with other windows, there's definitely something off about it: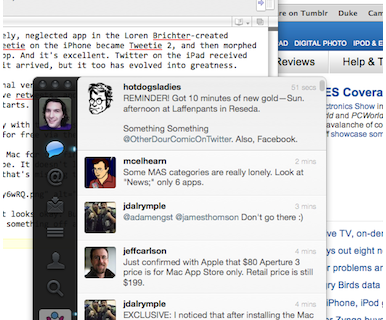 There's no title bar. The Close/Minimize/Resize circles are non-standard and monochromatic. You can drag the window from anywhere on the black bar, but not from the theoretical title bar region.
Macworld's own Jason Snell mentioned on Twitter that the app looks a bit like a Dashboard widget that flew the coop. He's not wrong. Again, to me, that's what many iPhone apps look like. But for the side tabs, doesn't Twitter for Mac seem right at home in this frame?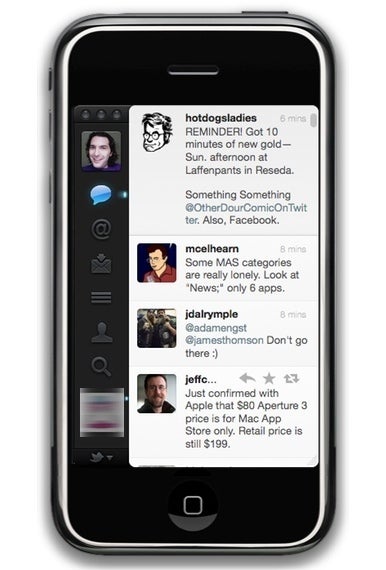 So yes, Twitter for Mac looks a bit out of place. I'd be more comfortable if a few missing options were in place: a more Mac-like window (with a title bar), an adjustable font size and color (the gray text is my least favorite part), and the option to display both real names and usernames at the same time. And I wish that—like Hibari and Twitterrific—Twitter would show everyone's replies to me in my timeline.
But even as-is, Twitter has become my new favorite Mac Twitter client. (I'm not alone.) It just does so much very, very well:
• Elegantly implemented multiple account support • Single-key shortcuts for common actions (favorite with F, for example) • Contextual reply, favorite, and retweet links • Double-tapclick on a tweet for its full conversation (though the app should better indicate those tweets that have conversations behind them) • Right arrow on tweets for more contextual information about them.
That last bullet deserves some explanations of its own.
On a regular tweet, pressing the right-arrow key leads to an in-app view of the user's profile, focused on their timeline, with tabs for their replies, their favorites, and their profile data. On a tweet with an image link, it opens the image right within the app. On a reply, it again opens up that conversation view.
In fact, you can navigate Twitter with only the arrow keys, if you're so inclined. Arrow up and down through tweets, tap right on a conversation to expand it, tap down to go through that conversation, tap right to go into a user's profile, and so on. Then left arrow your way back out again.
Hold down the Option key when you hit the right arrow, and you get (surprise!) options. On a tweet with an image link, Option-Right Arrow lets you choose whether to see the picture or the user's profile.

As you arrow through tweets, you'll note that the scrolling seems to invoke a little bit of gravity. (The same isn't true for mouse scrolling, though it should be.)
The more you use Twitter for Mac, the more apparent its flaws become, but the more obvious it becomes that this is where the Mac is going. (I could have written, "For better or worse…", but I've become convinced that, long-term, it's for better, so I dropped the conditional.)
Remember that the next iteration of Mac OS—Lion—is about bringing some innovations from iOS back to the Mac. Apps on the Mac should and will continue to feel Mac-like, but it makes good sense for them to become more iOS-like, too. My two-year-old is an expert iPad and iPhone user, and has been for six months.
Modern touchscreen interfaces—on iOS devices and their competitors—often tend to rely on drilldown mechanisms for navigation. There's a feeling of tapping down deeper into an app—whether navigating mailboxes in Mail, or RSS feeds in NetNewsWire or Reeder. On iOS, and especially on the iPhone, such navigation is seemingly necessary because of the limited screen real estate.
Twitter for Mac has the advantage of your (comparatively) enormous monitor, and yet it too employs a drilldown-style interface. That interface, coupled with smooth and subtle animations, helps you keep track of where you are in the app—precisely the way the app works on your iOS device. It doesn't need to do that, but I believe Twitter correctly concluded that the approach offers mental navigation benefits, in addition to space-saving ones.
Twitter for Mac isn't perfect. I miss features from each Twitter client I leave behind. But more than anything, the app feels like the future. Not the 2030 future—the late 2011 future.
Lex Friedman is a frequent Macworld contributor, and a too-frequent Twitterer.