Given the flood of product announcements coming out of Las Vegas this week, it's difficult to believe that the International Consumer Electronics Show only officially flung open its doors on Thursday. Still, if one thing is clear from the products making news on CES's opening day, it's that there are lots of companies competing to keep your iPhone and iPad powered up and protected.
Here's a round-up of some more new Apple-centric products debuting at CES.
Batteries
Scosche Industries has unveiled upgrades to its line of three FlipCharge battery backups for the iPhone and iPod touch, introducing the new SwitchBack Surge as a battery backup for the iPhone 4. That product comes complete with an integrated kickstand to enable portrait-mode video viewing and FaceTime calling. Scosche is also expanding its line of FlipSync USB keychains and cables, which includes ClipSync models that power up the iPhone and iPod touch. No word on when in 2011 these products will hit the market.
IDAPT is joining the charge at CES, unveiling its new i2+ universal charger, which lets users charge three different mobile gadgets—including the iPad and iPhone—as well as game controllers, GPS systems, and Bluetooth devices. The charger should be available during the spring.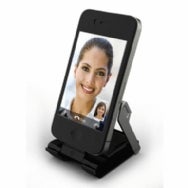 XtremeMac, meanwhile, is also trying to electrify electronics junkies with three new products: a $25 dual USB wall charger, a similar $15 device for the car, and a $60 USB battery pack with an integrated kickstand and wall-charger. The devices each support iPhones and iPods.
And Kensington is showing its own power in the Apple market, announcing two devices. The $50 PowerLift is a kickstand dock and backup battery for the iPhone, offering 3.5 hours of additional talk time beyond the phone's own resources. The company is also pushing a $35 dual USB wall charger that can power up two iOS devices at once.
Cases and stands
Kensington isn't stopping with power accessories. In addition to a new $25 Virtuoso touch screen stylus for iPad, the company has also unveiled a new $40 BlackBelt, a rubberized band that wraps around the tablet device to offer a secure grip and protection against the shock of an accidental drop.
In a similar vein, The Joy Factory announced its arrival on the market this week with the introduction of a whole suite of protective cases and stands for Apple iOS devices, including the Valet suction-mounted car stand for the iPhone 4 and the Arc case that includes a protective screen protector for the iPad.
Griffin Technology has a different form of protection in mind, announcing the new TechSafe Locking System, a cable lock for laptop computers, including the MacBook. As for handheld devices, Griffin also introduced three stands for the iPad and other tablets: Xpo, Wedge, and Arrowhead.
Fun
Now that your phone and tablet are fully powered and safe from breakage, what should you do? Make music of course.
Griffin's got two new products to aid that quest. Most prominent is the company's new $100 StompBox, a professional-quality foot controller for musical apps on the iPad and iPhone. (It was developed in combination with the makers of the iShred Live music app.) If you'd rather read your music, though, Griffin has a solution: a $40 mic stand mount for the iPad.
IK Multimedia, a music tech company, showed off its new iRig Mic, a condenser microphone for iOS devices the company says is perfect for "musicians on the move," as well as recording sound on stage or in the field.
Which brings us back to where we started, with Scosche: the company's new freedomMIC is a Bluetooth microphone that can transmit audio for recording to any iPhone or iPod touch within 100 feet. (It's also compatible with Flip camcorders.)
If somebody catches you secretly recording them with the miniature device, you'll probably want to run as fast as you can. Scosche has you covered there, too: It just announced its new MyTrek heart-monitoring arm band, which transmits heart-rate information via Bluetooth back to your iPhone or iPod touch.