The iPad's 9.7-inch display is ideal for most games, but its lack of physical controls can be a buzzkill for more traditional gamers. *Cue superhero music* The folks at ThinkGeek are here to save the day with their latest invention, the Joystick-It, an analog-style, physical joystick for the iPad.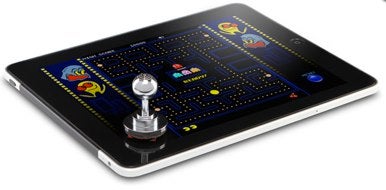 The Joystick-It's premise is brilliantly simple. Rather than connect to your iPad via cable or Bluetooth, the Joystick-It simply rests over your on-screen controls, acting as an extension of your hands. This means that it should work with most iPad games that provide a virtual direction pad. Made of solid milled aluminum, the lightweight Joystick-It is designed to provide iPad gamers with more precise movement and quicker response times.
Since it can work with any capacitative touchscreen device, you could use the Joystick-It with certain Android tablets and even the iPhone, though the latter's small size makes it a less than ideal candidate. The Joystick-It can be ordered now for $25, but you'll have to wait until the end of January for new orders to ship, as ThinkGeek has already sold out of its first batch.
Check out a clip of the Joystick-it in action below.
Read more…