The newly launched Mac App Store may sport a familiar, iTunes-like face. But there's still plenty to discover with Apple's new source for buying Mac software.
We asked if you had any questions about the Mac App Store and came up with a list of our own. Then, we spent Thursday diving into the Mac App Store to get some answers to those questions. Here's what we've been able to find out so far.
The basics
How do I access the Mac App Store?

It's as simple as upgrading to Mac OS X 10.6.6, an update to Snow Leopard that Apple released Thursday. Once you've installed the 10.6.6 update, you'll find an App Store icon in your Dock, right next to the Finder. (You can also access the store from the Apple menu.) That's a different approach than what Apple used with its iOS App Store, which you access through iTunes. But the layout of the Mac App Store is similar to what you've become accustomed to with Apple's retail outlet for mobile apps.
I have a Mac that's not running Snow Leopard. Can I use the Mac App Store?
No. The Mac App Store only works on Snow Leopard. Apps you download might work if you moved them to a Mac not running Snow Leopard, though. However, if you have an older PowerPC-based Mac, the apps won't work—App Store apps are all Intel-only.
Do I have to update to OS X 10.6.6 to use the Mac App Store?
Yes. As noted above, Mac OS X 10.6.6 actually enables the Mac App Store and installs the new App Store app. It's a must.
What's the average cost of apps found at the Mac App Store?
There's a lot of variability. There are free apps, of course. But then, Apple's Aperture is $80, Things and Acorn cost $50, Delicious Library sells for $40, OmniGraffle Pro will run you $200, and Distribute is listed at $700. Apple has priced its iWork apps at $20 each (twice the cost of the iPad versions), and its iLife apps at $15. Some developers have cut their prices, while others have kept them the same. It will take a while for people to figure out what the right prices for Mac Apps are in the Mac App Store.
Can I buy apps from the Mac App Store just like I buy iOS apps?
Pretty much. On your iOS device, you'd use the App Store app, and so it is on the Mac. When you want to buy something, you enter in your iTunes ID and password and, boom—it's purchased. The app downloads automatically, too, and what you bought is automatically placed in the Dock. (You can move it out later, if you want.)
If I live outside the U.S., can I buy apps from the U.S. Mac App Store?
The Mac App Store is open to pretty much every country that lets you buy stuff from Apple—90 in all. It seems like most of the international exclusion issues involving iTunes media do not exist on the Mac App Store, so you should be able to buy in your own country and get the same stuff you'd get in the U.S.
Do apps download directly to my Mac's Downloads folder or will they be added to iTunes like iOS apps?

Neither. When you buy a Mac App Store app, it's installed directly in your Applications folder and added to your Dock.
Does that mean that Mac App Store purchases have to remain in my Dock permanently?
No, once they're in your Dock they behave like any other app. You can drag them out (or control-click and deselect Options -> Keep in Dock) to banish them.
What happens when you move an app from the Applications folder after buying it on the Mac Apple Store? Will it still be recognized and updated?
You can move the app out of the Applications folder after it has been installed, and they'll run fine. We're not sure how this will affect updates, since the apps we just bought haven't required updating yet.
What happens if I install the App Store version over top of an existing version? Like Evernote, for example.
We had that exact experience. When we installed Evernote 2.0.1 from the Mac App Store, it replaced version 2.0 that was already installed on the Mac. All the saved data was preserved—no problems.
What if I lose my purchased apps because my Mac crashes or hard drive dies. Will I have to pay for them again?
No. Like iOS App Store apps, if you try to buy an app you've previously bought, the App Store realizes this and offers to let you download it again for free.
Is there a download size limit for apps sold in the store?
None that we're aware of, though of course the bigger the app, the longer the download. So developers are encouraged to keep file sizes down.
Is Apple applying content standards to the apps sold in the Mac App Store?
As with the iOS App Store, Apple is curating the Mac App Store, both for content and for technical reasons. The difference is that on the Mac, if someone's app is rejected by Apple, they can still sell it to Mac users. They just won't have the marketing engine of Apple's App Store behind them.
What are some of those restrictions? In other words, what apps won't I see in the Mac App Store?
You won't see trial, demo, or beta apps in the store. (Apple encourages developers to post those things to their company Websites.) Like the iOS App Store, Mac apps that use programming techniques not blessed by Apple won't make the cut. Neither will apps that offer their own update mechanisms or misuse the tidy Mac OS X file system. (For example, apps cannot store databases in ~/Documents.) To win Apple's approval, apps also cannot download standalone apps outside of the store, and they can't install kernel extensions.
In other words, apps like WireTap Anywhere, TotalFinder, and CandyBar are not allowed by Apple's current policies.
What are the alternatives to the Mac App Store? Will software (including demos, betas, and other non-commercial versions) still be available from traditional sources—vendor web sites, mail order, the Apple store, and so forth?
The entire Internet is an alternative to the Mac App Store. Developers do not have to make their apps exclusive on the Mac App Store. All traditional sources of Mac software remain unchanged as of January 6; there's just a new source, the Mac App Store. Presumably it will very quickly become the most important source, given Apple's backing, but the others aren't going to go away any time soon.
How does the Mac App Store software-update process mesh with the existing Apple Software Update tools?
It's a good question and we're not really sure what the answer will be. Presumably all the apps you bought in the Mac App Store will update via the App Store app itself, using the Updates tab. Some Apple-made apps like iLife and iWork currently use Apple's Software Update mechanism, it's unclear if that will continue, or if Apple will funnel all of that into the Mac App Store over time. (You may update in different places based on where you bought your software, in the short term. In the long term, the App Store app will probably be the answer.)
Can iTunes gift cards be used in the Mac App Store?
Yes. So far as we can tell, there's no wall between money you spend in one part of Apple's gigantic e-commerce empire and another part. If you've got a gift card to redeem, you can just click on Redeem in the App Store app and put in your codes, just as you would in iTunes or in the App Store app on iOS devices. Then again, we've also seen some people on Twitter report that the two stores may not be connected. We're just not sure yet.
Licenses and copy protection
Can I buy an app on one Mac for use on all my computers?
Yes, you can install apps bought from the Mac App Store on any and every Mac that you personally own and use.
What about the five-Mac restriction that I have with videos I bought from iTunes? Does that work for Apps too?
No. Apps don't check to see if you've using an iTunes-authorized Mac. They can ask you to verify your Apple ID and password, but that's a single check and it's just to verify you are who you say you are. Once your identity is verified, that's it. There's no authorizing or deauthorizing or counting of different Macs.
Does that mean I could buy one copy of an app and install it on every Mac in my business?
No, the license you agree to when you enter the Mac App Store says that app downloads are for Macs that you personally own, and that's a license for personal use. Apps that are intended for professional use are licensed for you or for a single computer used by several people. While there's no technical impediment to you installing them on multiple Macs at work, you'll be violating the license agreement. It's the same scenario as if you buy a single-user copy of iWork and install it on ten Macs at work—you can do it, but you're violating the license agreement, making the act ethically questionable.
Are there family pack licensing options in the App Store?
No, apps are purchased for and owned by a user linked to a single Apple ID. But if you log in with that ID on all the Macs in your household, you can download and install your apps on each one.
How does the Mac App Store handle volume licenses? How about educational discounts? Are those offered in the App Store, or do I have to go straight to the software vendor for that kind of discount pricing?
As far as we know, there is no volume licensing for Mac App Store apps. However, according to Ken Case at The Omni Group, educational discounts are available, but only on a volume licensing basis. For that, you'll have to contact Apple.
Is there any DRM that would prevent me from using a Mac App Store purchase on another computer?
Some apps allow you to freely copy to other Macs and they'll run without a hitch (though this seems to be a technical oversight, and not an intentional design). Other apps will require the purchaser of the app to log into the Mac App Store. When you launch such an app, a login window appears, displaying the purchaser's account name; you then have to enter that account's password. If you enter a different account, the app doesn't work.
Say I migrate to a new Mac. Will I be able to take my App Store purchases with me?
As mentioned above, when you move an app to another Mac, you might have to enter in the login information of the purchaser. If you have that info, you're all set. You can also just re-download all your apps straight from the Mac App Store (as long as they're still available) by logging in on the new Mac and checking the Purchases tab.
Existing apps
Does the App Store recognize software I already own? Will that prevent me from inadvertently buying software that's already on my Mac?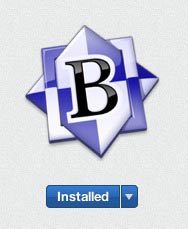 Well, the good news is that the Mac App Store can acknowledge some of the existing third-party apps that you own… provided that they are installed, of course. Instead of a button with a price, you will see a button labeled "installed," so you can't make an impulse buy upon seeing a familiar face in the store. But this doesn't work with all apps—the store is just looking for apps with the same version number and "bundle ID," a unique identifier, in all the apps installed on your Mac.
If the version of the app you have installed matches the one in the store, it will register as "installed." Some developers changed their version numbers on the apps they submitted for the store, others changed only the bundle ID but kept the version number, while a few left everything alone, which is why some apps appear as "Installed." Read on for the downside to this money-saving perk.
If I have an existing Mac application that is recognized as "Installed", does that mean I'll get updates through the Mac App Store? Will I get update notifications for apps I bought directly from developers?
Once a developer updates their app in the Mac App Store, it will no longer register as "Installed," and you will need to re-purchase it from the store in order to begin getting updates from the store. At this time, Apple offers no sort of system for transitioning an existing license you own for an app into the Mac App Store. This is partly why some generous developers have gone out of their way to offer highly discounted prices on their wares for a limited time at the store's launch. They want to give users who prefer the Mac App Store way of updating software a cheaper way of opting into the ecosystem.
What if the Mac App Store doesn't recognize my previously purchased software as installed?
You'll have to be careful not to purchase the software until you decide that you want to opt into the Mac App Store ecosystem, perhaps when there is a major new version or the developer has a fire sale. Many developers have stated that they will maintain separate, non-Mac App Store versions of their apps and update them, at least for some time, for users who cannot or do not want to buy into the Mac App Store. A few developers, though, have moved their apps exclusively into the Mac App Store, and significantly slashed their prices, at least for a limited time, to help with the transition.
How do I uninstall apps installed via Mac App Store?
The same way you uninstall most other Mac apps: open your Applications folder and drag the app to the trash.