Almost a year to the day since Polaroid said it signed Lady Gaga as its creative director, the popular singer unveiled on Thursday the fruits of her labor at the imaging company.
Called "Grey Label by Haus of Gaga," the gadgets include a pair of sunglasses with embedded camera and display, a mobile photo printer, and a Polaroid camera.
"This is the first ever pair of sunglasses that can be worn out to protect your eyes from the sun and they can also take pictures," said Lady Gaga as she unveiled the GL20 sunglasses to a packed crowd and a storm of photo flashes at the Consumer Electronics Show in Las Vegas.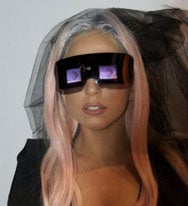 The glasses can shoot both photos and video, which is stored in memory embedded in one of the earpieces. The earpiece can be removed and connected via USB to a printer, or the images can be transferred via Bluetooth.
The glasses also feature a screen in front of each eye that can play back recorded images.
Lady Gaga said inspiration for the product, which is still a prototype, came from a pair of glasses she used once on tour.
"When I did the Fame Ball tour, I made these glasses out of iPod screens that I strung together to create glasses that could play movies and I thought wouldn't it be wonderful if these were functional," she said.
The second product, the GL10 mobile photo printer, will be available in March for $150 and pairs via Bluetooth with any cell phone that supports the standard, except Apple's iPhone. Exclusion of the popular cell phone prompted a few jeers from the audience to which Lady Gaga explained it was an Apple limitation and not a decision on Polaroid's part.
"I suppose many of you here are nerdy enough to carry around a mobile printer with you," she said. "I know I will."
The printer takes a cartridge of 10 sheets of paper. It can also connect to a Mac or PC via USB.
Also unveiled was a Polaroid camera, the GL30. Like classic Polaroid cameras, the camera prints out photos but it can also record them digitally. They can be viewed on a pop-up display screen on its top. The device will be available at the end of 2011.
[Martyn Williams covers Japan and general technology breaking news for The IDG News Service. Follow Martyn on Twitter at @martyn_williams. Martyn's e-mail address is martyn_williams@idg.com.]
GL10 Instant Mobile Printer
GL30 Instant Digital Camera